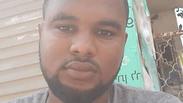 Off-duty cop implicated in killing of Ethiopian teen released from house arrest
Police Internal Investigations Department agrees to free the police officer under restrictive conditions after the investigation into the fatal shooting of 19-year-old Solomon Tekah, which sparked massive protests across Israel, was completed
The off-duty policeman who fatally shot an Ethiopian teen two weeks ago was released from house arrest on Monday, after the investigation into the shooting was completed.

The killing of 19-year-old Solomon Tekah in Haifa two weeks ago prompted mass demonstrations all over the country by Israelis of Ethiopian origin, where at least 111 officers and dozens of protesters were wounded, and 136 people were arrested.




The officer was released after the judge approved the Police Internal Investigations Department's decision to release the defendant under restrictive conditions."The investigation has been completed and the case has been transferred to the State Prosecutor's Office," said the investigation's department in a statement.

The policeman has remained under house arrest in a hotel since the incident on June 30. The office was arrested on suspicion of manslaughter.

As part of his release, the officer is forbidden to enter a police station where he worked, to contact those involved in the investigation and is banned from leaving the country. He was released on NIS 5,000 bail.

"From the onset, the officer was treated with a forgiving attitude when he was placed under house arrest in a hotel, even though he shot and killed Solomon," said the lawyers representing the Tekah family in a statement.

"This forgiving attitude is very noticeable in light of the law enforcement's usual policy of requesting detention in similar cases in order to prevent obstruction of criminal investigations."

The Tekah family along with dozens of others demonstrated outside the prime ministers' office when the officer was being released. In addition, a special Knesset plenum session on racism towards the Ethiopian community was to be held sometime on Monday.

The shooting in the Kiryat Haim neighborhood of Haifa took place after the officer, who'd finished his shift, confronted Tekah and a number of his friends after he suspected them of stealing a cell phone. The policeman claims that during the confrontation he found himself in mortal danger which prompted him to fire off his gun.

The preliminary investigation last week revealed the gunshot was fired toward the floor, ricocheted and hit the 19-year-old man.