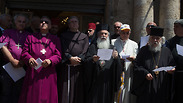 Greek Orthodox Patriarch, Theophilos III
Photo: Ohad Zwigenberg
The National Security Council is to discuss Tuesday the intention of the Ateret Cohanim organization, that works to settle Jews in the Old City of Jerusalem and East Jerusalem, to evacuate tenants from two buildings it recently acquired from the Greek Orthodox Patriarchate in the capital.

The deal included two hotels — Imperial and Petra — located near Jaffa Gate, and another building near Herod's Gate, and was revealed in Yedioth Ahronoth last Friday.

The Greek Orthodox Patriarchate, initially denied the sale ever took place and said it involved acts of bribery and was illegitimate; however, both the Jerusalem District Court and recently the Supreme Court denied their claims and approved the legality of the sale.

In Yedioth Ahronoth's reporting, it was revealed that former manager of the Petra Hotel, Ted Bloomfield, had received funds for years from the Ateret Cohanim organization in order to push for the deal to take place, and holds recording that prove it. In light of this new evidence, the Greek Patriarchy means to file a request to cancel the earlier verdict.

Former head of the National Security Council Major General Giora Eiland (res.) warned of a possible crisis between Israel and the Orthodox Christian world in case the buildings are indeed evacuated of their tenants and the sale approved. He added that such a crisis could affect Israel's relationship with Russia among other ties with the Orthodox world.

Eiland gave his opinion to the council and recommended that the evacuation of the buildings' tenants be postponed until after all claims from the Greek Patriarchy are investigated.

"This conflict around assets of the Orthodox Church could anger Christian countries and organizations that are naturally pro-Israel," Eiland said, and added that Israel's relationship with Russia and with its president Vladimir Putin could also be affected.

The evacuation of the Old City assets could also have an impact on other lands under dispute in the capital; the Patriarchy is the original owner of massive lands within Jerusalem's Rehavia and Talbiye neighborhoods, leased to the Israel National Fund for a period of 99 years, set to end soon.

Hundreds of Israelis could lose their homes in case the church reclaims its lands in these central West Jerusalem neighborhoods.

According to an unnamed government official, both the Ministries of Internal and Foreign Affairs have asked the National Security Council to discuss the sale and evacuation ordeal; the Ateret Cohanim Organization refused to comment on the affair.