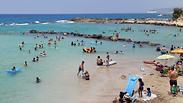 Israeli beach during heatwave
Photo: Nature and Parks Authority
An unexpected extreme heatwave expected to hit Israel on Wednesday, with temperatures possibly skyrocketing to 40 celsius in some parts of the county, warned the Health Ministry.

"We call on the public, especially elderly people and those who suffer from chronic illnesses, to avoid sun, heat exposure and unnecessary physical effort," said the ministry in a statement on Tuesday, adding that people should remain in air-conditioned spaces and drink plenty of water.

In the northern city of Haifa, the temperatures will rise from 24 degrees celsius early Wednesday to 38 degrees during the day. In Tel Aviv, the weather will be similar with a range of 24 degrees in the early hours and 38 degrees during the day. In the southern city of Be'er Sheva, temperatures will range from 26 degrees in the early morning to 42 degrees in the afternoon. In Jerusalem, the weather will also be hot with temperatures reaching 25 degrees in the pre-dawn hours to 38 degrees during the day.

"It's an unusual but a very brief occurrence," said Giora Frenkel from the Meteo-Tech meteorological company. He added that excessively hot weather is due to a system of high atmospheric pressure moving into Israeli territory from Egypt, made worse by low humidity levels across the country.

In coastal areas, humidity levels will decrease to below 40% while in inland areas they will fall to below 25%, an unusual occurrence for mid-summer climate.

Despite the overwhelming heat the skies will be cloudy, the winds will accelerate throughout the day and parts of the country will be shrouded in early mist and fog. In the afternoon hours, the heat will gradually begin to subside, while humidity levels will begin to rise.

The extreme weather has prompted the Fire and Rescue Services to issue a statement banning fires from being lit in open areas - where strong winds can lead to the flames spreading beyond control - and forests.