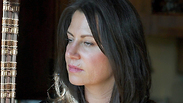 Jewish woman in U.S. awarded millions in damages after neo-Nazi 'troll storm'
Federal judge in Montana recommends the $14 million compensation for Tanya Gersh, who suffered anti-Semitic abuse at the hands of the founder and editor of a neo-Nazi website who organized an internet campaign against the victim
A federal judge in a U.S. state of Montana has awarded a compensation totaling $14 million to a Jewish woman whose family came under attack by a neo-Nazi website that organized a "troll storm" against her.
Tanya Gersh, a real estate agent in Whitefish, Montana, became the target of the founder and editor of neo-Nazi website The Daily Stormer, Andrew Anglin, who organized an online campaign against her.
The recommended compensation by Magistrate Judge Jeremiah Lynch, still needs to be approved by the district's chief judge.
In 2016, Anglin published a call on his website for "a troll storm" against Gersh. Anglin claimed that Gersh was harassing Richard Spencer's mother, who lives in Whitefish.
Spencer has turned into one of the leading voices of the extreme right over the last few years. After the election of Donald Trump in 2016, Spencer called on his supporters to "party like it's 1933," in reference to the year that Hitler was elected.
Spencer also spoke at the Charlottesville Unite the Right rally in 2017, which ended in the murder of Heather Hayer, who was protesting against white supremacists.
Anglin's 2016 article against Gersh also included her address, her telephone number, and a screen capture of her 12-year-old son's Twitter account.
"Tell them you are sickened by their Jew agenda," wrote Anglin.
Anglin has recently gone underground, and he did not appear at court to defend himself.
"A clear message has been sent to Anglin and other extremists," said Gersh in a statement after the judgement.
"No one should be terrorized for simply being who they are, and no one should ever be afraid for being who they are."