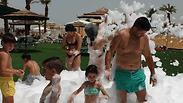 Archive / Israelis seek respite from a heatwave
Photo: Avi Moalem
Wildfires break out across Israel as temperatures soar in extreme heatwave
Firefighters battling blazes in Haifa and Wadi Ara in north, multiple locations in center of country and Ashdod in south as temperatures reach as high as 42 degrees Celsius; Health Ministry warns locals to stay in air-conditioned spaces and drink plenty of water
Wildfires broke out Wednesday afternoon at several locations around Israel as an unexpected extreme heatwave hit the country, sending with temperatures skyrocketing to above 40 Celsius in some areas.
A large fire broke out near Moshav Aderet, close to the city of Beit Shemesh, while a further massive forest fire was raging in the Arab town of Barta'a in Wadi Ara. Large numbers of firefighters were deployed to the area, accompanied by firefighting planes.
Some 200 homes were evacuated in the Wadi Ara communities of Barta'a, Ar'ara and Katzir, and residents of Moshav Aderet and Roglit were also evacuated.
In the Haifa region, a fire was raging on the mountainside between the Check Post junction, the Neve Sha'anan neighborhood and the nearby town of Nesher.
Another fire broke out in the Ramat Pinkas neighborhood of Or Yehuda in central Israel, setting a number of homes ablaze. Residents were evacuated from the first line of houses in the neighborhood and the entrance to the area was blocked.
Fire fighting forces were able to contain the Or Yehuda fire.
Additional forest fires also broke out in Modi'in, Petah Tikva, Kfar Sava and Kfar Yona in central Israel and in Ashdod in the south.
The heatwave sent temperatures soaring to 39 degrees Celsius in Tel Aviv and the central region; in Tiberias in the north the termperature hit 41 degrees, and in the southern cities of Eilat and Be'er Sheva it was to reach as high as 42 degrees.
"We call on the public, especially elderly people and those who suffer from chronic illnesses, to avoid sun, heat exposure and unnecessary physical effort," the Hleath Ministry in a statement on Tuesday, adding that people should remain in air-conditioned spaces and drink plenty of water.
"It's an unusual but a very brief occurrence," said Giora Frenkel from the Meteo-Tech meteorological company.
He added that excessively hot weather is due to a system of high atmospheric pressure moving into Israeli territory from Egypt, made worse by low humidity levels across the country.
In coastal areas, humidity levels will decrease to below 40% while in inland areas they will fall to below 25%, an unusual occurrence for mid-summer climate.
Despite the overwhelming heat the skies will be cloudy, the winds will accelerate throughout the day and parts of the country will be shrouded in early mist and fog. In the afternoon hours, the heat will gradually begin to subside, while humidity levels will begin to rise.
The extreme weather has prompted the Fire and Rescue Services to issue a statement banning fires from being lit in open areas - where strong winds can lead to the flames spreading beyond control - and forests.