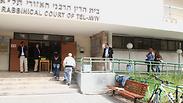 The rabbinical court in tel Aviv
Photo: Jackie Yaakov
Israel's rabbinical courts have been demanding that immigrants from the former Soviet Union undergo DNA tests as proof of their Jewishness, despite denying that such a practice exists.
The Yisrael Beytenu party, which was founded by members of the Russian-speaking community, raised concerns about the practice in advance of the April 2019 elections. Party leader Avigdor Liberman called the practice racist and outrageous discrimination, saying it was being used solely on a specific group of immigrants.
Interior Minister Aryeh Deri, who heads the ultra-Orthodox Shas Party, even accused Liberman of conducting "a campaign of lies" on the issue.
But Ynet's sister publication Yedioth Ahronoth has found at least 20 cases in which that demand was indeed made.
An estimated 5,000 people have been required to prove they are Jewish by the rabbinical courts, which control all aspects of Jewish life in Israel, and an increasing number of cases are being referred to DNA testing.
One such case involved an immigrant called Oleg who wanted to marry through the rabbinate. Oleg was sent to confirm his Jewish roots, and two experts determined that although his family was Jewish, his grandmother's birth certificate and other documents raised suspicions that she was not the biological daughter of the Jewish mother who raised her and therefore was not Jewish. As Judaism is a matrilineal faith, this meant that Oleg was deemed not Jewish as well.
The rabbinical court in Ashdod demanded a DNA test be done for the grandmother, an elderly woman with Alzheimer's, to determine if there was a genetic match between her and other members of the family.
No other members could be found, so the court determined that Oleg and all of his relatives on his grandmother's side were to be listed as unable to marry until their religious status was finalized.
Oleg appealed to a higher rabbinical court with the aid of ITIM, an Israeli NGO that helps people navigate the way in which the State of Israel regulates matters of Jewish identity. His appeal was successful, and the higher court ruled that his grandmother being adopted was the least likely scenario, and therefore the Jewish identity of the family was not in question.
Despite this and other similar cases, the higher rabbinical court claims that DNA testing is not racist or wrong. In fact, the court says, it can help people who are unable to prove they are Jewish by any other means.