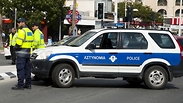 Cyprus police
Photo: Shutterstock
Multiple injuries found on body of UK woman allegedly raped by 12 Israelis
According to documents presented at a court hearing in Cyprus, the woman had scratches on her lower limbs; she'd met one of the suspects sometime prior to incident and had engaged in sexual relations with him on multiple occasions
Multiple scratches were found on a body of a British woman who alleged rape against 12 Israeli teens in Cyprus, stated the documents presented at a court hearing on Thursday.

A Cyprus police official on Tuesday said 12 Israelis aged 16-18 have been detained after a 19-year-old woman alleged that she was raped in the resort town of Ayia Napa. The remand of the young men was extended by eight days by a Famagusta district court during Thursday's hearing in order to allow all the DNA evidence to be examined.

"The victim had scratches on her lower limbs," said the documents. "According to our estimates, the scratches are a result of trauma." In addition, the documents stated the 19-year-old woman met one of the suspects three days prior to the alleged attack and had engaged in sexual relations with the teen on multiple occasions.

Earlier reports in the Cypriot media said the woman claimed the young men held her down and filmed the sexual assault while she screamed. According to the reports, the woman was with one of the suspects at a party and had agreed to go to his hotel room at around 3:00am. The alleged victim claims that once inside, 11 other teens entered the room and proceeded to rape the woman.

The reports also suggest the local police so far haven't gathered enough evidence to implicate all 12 of the teens in the assault.

"The Israelis were drunk … I'm sure she was raped," said one victim's friends who also attended the party. "I know her, she wouldn't sleep with 12 men. I hope those involved will be harshly punished."

Attorney Nir Yeslovich, who represents two of the suspects, said that nine out of 12 teens deny having any sexual relations with the 19-year-old woman.

The lawyers claims only three of the accused men have admitted to having sex with the British teen and all three claim the act was consentual.

The Foreign Ministry and the local Israeli envoy has been in touch with the suspects and their families.

Ayia Napa is very popular with younger tourists for its pristine beaches and vibrant nightlife.