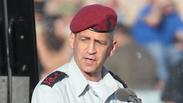 אביב כוכבי טקס סיום קורס טיס חצרים חיל האוויר צה"ל
Photo: Motti Kimchi
National security is vital component of a nation's long term existence with safety and honor.

Military might, is not the only aspect of national security, but is undoubtably a vital and central part of it.

From the day of its inception, the IDF defends the country and its people and assists in its development and growth, by contributing directly and indirectly to its economy.

Stability and security are the shields that defend the economy and allow its flexibility.

Studies show that a growing sense of security mitigates uncertainty and motivates investments and economic growth.

Furthermore, the IDF itself is one of the country's central economic growth engines advancing legacy industries as well as technology-based companies that impact Israel's development across the board, providing jobs and enriching the geographic and social periphery of the country.

But the military's contribution is not only to the economy. It is to society as well.

The IDF is the biggest start-up in Israel and perhaps in the entire world.

A start up that develops manpower and community using unique methods.

An organization that takes in a long line of youngsters from different social groups and provides all of them with equal opportunity for success.

Regardless of background, education religion or ethnicity and in most cases regardless of gender, soldiers are offered an array of choices for professional and personal growth.


It also discovers in its members' abilities and talents that were untapped before.

Teamwork, leadership skills and initiative are rewarded and advanced adding to another unique advantage – self confidence that comes as a result of experiences gained.

The challenges soldiers face develop a pride that stays with these young people when they leave.

A nation of people who have risen to challenges, overcome difficulties, worked in unity with others, motivated and led their comrades, enjoys a constant influx of energy and its importance cannot be understated.

Israel is a leader in innovation much thanks to compulsory service in its military.

Almost unintentionally and as a result of the security challenges the country has faced and is still facing, a massive training and leadership program was born.

A program that provides hands on experience and technological advancement with leadership challenges sometimes at personal risk.

Alumni of this program are the resource this country, unlike any other, is blessed with.

Another strength gains from the IDF is social mobility and increased integration of all parts of society.

In the military, social boundaries are blurred as unity is formed to the benefit of the entire country and to the envy of others.

One more advantage that must be noted is the role the IDF plays in promoting a sense of identity with the country and the Jewish values it holds dear.

This is a bastion of our democracy. All are accepted into it and thanked for their service as they leave, better prepared for life in a country they identify with and believe in.

Israel's existence is conditional on the IDF while its society, economy and values are dependent on it as well.