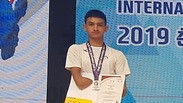 Assaf Yasur champion of para Taekwando
Photo: Courtesy
A 17-year old amputee Assaf Yasur is aiming for the para Olympic Games in Tokyo in 2020 and plans to make it there and return with a medal.

Assaf was just 13 when a terrible electrocution accident caused him the loss of both hands.

"I was playing football with my friends when the ball fell into an electric company structure. I got it and threw it back to the boys but then I lost my balance and grabbed on to a live wire".

After years of operations and treatments Assaf was fitted with prosthetic arm, bionic he says "They have 32 different movements. The brain sends messages to sensors and the work like real hands".

His father Lior refused to let his son give up on being a happy kid. He saw the accident as an opportunity for Assaf and the entire family

"It brought us closer together. It showed us what is important, what our priorities should be"

And Assaf's priority was being an athlete. He posted on his Face Book page that he wants to participate in the para Olympic Games, Yehiam Sharabi, coach of the Taekwondo team read the post and rose to the challenge inviting Assaf to train with his team.

Taekwondo, a Korean martial art which is characterized by fast kicking techniques. Assaf began training with a team or "healthy" athletes who cut him no breaks.

"I have to compete against people who are 30 lbs. heavier and six years older than I in the Olympic Games we all compete against each other, so If I don't practice here, competing with people with a lesser disability, its like coming to an exam without having studied"

He is the first Israeli para Taekwondo athlete.

Rated K43 in his disability, which is the third out of four levels of severity of disability, Assaf explains that hands are used in defensive moves so "I use whatever hands I have left."

In three years of training, Assaf is already competing on the world stage. He just recently returned from the United States with a silver medal from the Pan American championship in Portland, Oregon. He is currently ranked 10th in the world in his class.

Assaf lives in a rented apartment almost three hours drive away from home on the Golan Heights, so that he can be close to his coach and training. "I love living alone. Most guys look forward to leaving home and I just made the move a little early".

His parents took on the heavy financial cost and hope to find sponsors to keep their son at the top of his game but Lior says "If we have to, we will take out loans. We will do whatever it takes for Assaf to fulfil his dream".

Speaking of dreams Assaf quotes Walt Disney who said " All our dreams can come true, if we have the courage to pursue them"