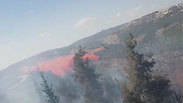 The fire at the entrance to Jerusalem
Firefighters were battling Thursday to control a fire that broke out in the afternoon in the area of the Lifta nature reserve at the entrance to Jerusalem.
A dozen firefighting and rescue teams and four firefighting planes were deployed to the scene.
Israel Railways suspended the train line from Jerusalem to Ben-Gurion Airport as the fire spread near the tunnels, providing buses instead for travelers.
The firefighters were able to stop the fire from spreading toward Route 1, the central highway between Jerusalem and Tel Aviv, but have yet to control the fire.
Due to the smoke and the use of flame retardants from a relatively low level, the highway was closed to traffic intermittently by police, and heavy traffic jams were reported in the area.
The fire comes a day after an extreme heatwave sent temperatures soaring into the 40s across much of the country, causing wildfires in multiple locations.
The blazes broke out in the Haifa region and Wadi Ara in the north; Modi'in, Petah Tikva, Kfar Sava and Kfar Yona in central Israel and in Ashdod in the south.