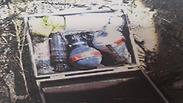 Hand grenades seized by the police
Photo: Shin Bet media
A 20-year-old man from a predominantly Bedouin town in southern Israel planned to blow up a hotel in the city Ashdod, according to an indictment filed by the Southern District Prosecutor's Office on Sunday.

According to the charges, Adal Abu Hadayb from Rahat, began watching Hamas videos and later YouTube clips on how to make homemade explosives sometime in 2018. He later purchased materials with an intention to make a bomb to "harm Jews" at a Leonardo hotel in Ashdod where he worked as a gardener.

Hadayb apparently later became disenchanted with the terror group due to its policies in the Gaza Strip, which he disapproved of, but he continued to proceed with his initial plan.

In June, the suspect purchased fertilizer at a store in Rahat with an intention to make homemade explosives, but his attempts to build a bomb by mixing fertilizer with sugar and water proved unsuccessful.

In addition, back in 2017 the suspect found a bag with five hand grenades, two stun grenades, a smoke grenade and two tear gas canisters at a garden in the southern town of Yavneh where he was employed at the time.

He'd taken the bag with the explosives back to Rahat and tried to sell them to a minor for NIS 400 ($113). The grenades were seized by the police after the defendant went back on his decision to sell them.

In another instance, he bought an improvised rifle for NIS 8,000 ($2,260) and carried out shooting drills.

The State Prosecutor's Office filed a request for him to remain under arrest until the end of the legal proceedings.