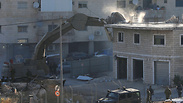 Demolition in Sur Baher
Photo: Reuters
Israeli work crews have begun demolishing dozens of homes in a mostly abandoned Palestinian village located on the outskirts of east Jerusalem.

Monday's demolitions cap a years-long legal battle over the buildings in Sur Baher, which straddle the city and the West Bank.

Israel says the buildings were built illegally too close to its West Bank separation barrier. Residents say they have nowhere to build and getting permits to build homes legally is impossible.

The demolitions, which began overnight, have already destroyed several of the more than 72 apartments in 12 buildings, most of which are not occupied.

Demolition in Sur Baher (צילום: רויטרס )

"Since 2am they have been evacuating people from their homes by force and they have started planting explosives in the homes they want to destroy," said Hamada Hamada, a community leader in Sur Baher.

The United Nations estimates about 20 people are believed to live in the buildings and some 350 property owners who have not yet moved in will be affected.

Hussein al-Sheikh, head of the civil affairs department of the Palestinians Authority, called Monday's demolition a "crime" and demanded international intervention.

The Supreme Court ruled in June that the structures violated a construction ban. The deadline for residents to remove the affected buildings, or parts of them, expired on Friday.

The villages's political geography is complicated by the fact that parts of it lie outside the municipal boundaries of east Jerusalem but on the Israeli side of the barrier, cutting it off from the rest of the West Bank.

According to Ir Amim, an Israeli advocacy group that promotes equality and coexistence in the city, Israel has stepped up demolitions of unauthorized Palestinian properties in east Jerusalem.

It said Israel demolished some 63 housing units in the first half of this year, compared to 37 during the same period last year.