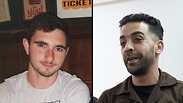 Ronen Lubarsky and Islam Yusuf Hamid
Photo: Amit Shaabi
A Palestinian who killed an Israeli soldier by dropping a marble slap on his head in the West Bank last year, was on Monday sentenced to life in prison.

Staff Sgt. Ronen Lubarsky, 20, died from his wounds after Islam Yusuf Hamid, 33, dropped a marble slab on him from a rooftop during an arrest raid in the al-Am'ari Refugee Camp near Ramallah on May 24, 2018. Hamid, also known as Islam Naji, was arrested by Lubarsky's comrades from the IDF's elite Duvdevan unit a month later.

The family of the murdered soldier began shouting "shame" in the courtroom upon hearing the verdict.

"This is a disgrace … today's verdict is additional proof that it's worthwhile to murder Israelis," said Lubersky's father, Vladimir. "I'm deeply disappointed with the legal system. The citizens of the State of Israel should know the terrorists are attending a camp when they go to prison," said Ronen's brother, Erik.

Vladimir last year wrote a letter to the judges in the trial, asking them to give the Palestinian a death penalty.

The family also demanded a compensation in the amount of NIS 5 million, which is what the defendant is expected to receive from the Palestinian Authority during his time in prison, as part of PA's policy of paying stipends to the families of "martyrs."

The judge, however, ruled the total amount of compensation to be paid by the terrorist - whom he labeled as a man with "murderous ideology" - will be NIS 250,000.

The lawyer representing the Lubarsky family said the demand for compensation was meant to "prevent him from receiving his stipend from the Palestinian Authority. The court rejected the request, which is disrespectful to us."

Yisrael Beytenu Chairman Avigdor Liberman also weighed in on the verdict, saying "the death penalty is the proper punishment for the murder which was planned in advance by the abominable terrorist."

"It's a shame that Prime Minister Benjamin Netanyahu has for the past four years been sabotaging our demand for the death penalty for terrorists," said the former defense minister.