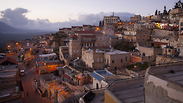 Up until the mid-1980s, Safed was a bustling tourist town. But ever since, the hotels of the town that nestles in the Galilee mountains have been sold off, one by one, and turned into religious institutions. Now, one of the city's oldest and most famous hotels joins the list.

Safed has huge tourism potential: ancient buildings, secret stone alleys, myths of rebbes and a spiritual vibe only second to Jerusalem. And indeed, for years tourists and artists flocked to the town to enjoy the fresh mountain air and charming streets, and Israeli leaders chose it for their vacations.

But since the early 1980s, 18 of Safed's 22 hotels have closed down. The Ron Hotel, which boasted 50 rooms and a 60-year history - one of the oldest in town, recently shut down too.

Like many other hotels that have disappeared, Ron Hotel was bought by the Chabad movement, and will soon become a religious institution.

The Rakefet Hotel went through a similar transition; the 200-room hotel was bought by Chabad and turned into lodging for Torah students. It is now called Beit Pinchas Chabad.

Similarly, the Tel Aviv Hotel became a hostel for the ultra-Orthodox crowd; Herzliya Hotel became a seminary for Haredi teen girls; Beit Hagesher Hotel became a visitor center where Judaica is sold, and Hametsuda Hotel became a Haredi elementary school.

Hotels Oranim, Nof Hagalil, Zion, Hadar, David and Yair shared a similar fate when the tourists stopped coming.

The beautiful building that used to serve the Beit Bussel Sanatorium was also closed down due to a downturn in the number of visitors, and became a part of the Safed Academic College.

Some 35,000 resident currently live in Safed, of whom 30 percent are ultra-Orthodox. The Chabad community in Safed is about 700 families strong and is the third-largest in the country.

One resident said that the city became a ghost town and lost its tourist appeal when businesses started shutting on Saturdays.

Fellow resident David Amiel is an historian and a 12th generation Safed dweller. He says he is pained to see the dwindling of his city.

"Visitors like David Ben-Gurion, Menachem Begin, Chaim Herzog and Yitzhak Ben-Zvi used to come for vacations here," Amiel says. "Now it's entirely changed."

But one Safed institution still exists at least. The annual Klezmer Festival is set to take place in the city in August, for the 32nd year.