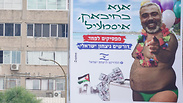 Hamas leader Ismail Haniyeh on billboard
Photo: Halel Meir
Hamas leader in bikini stuns Israelis in central Tel Aviv
'Thank you Israel, I love you. Ismail' says the billboard overlooking the Ayalon Highway, which was put up by an organization working to steer U.S. policy toward backing Israel over Palestinians, in protest of what they perceive is Israeli appeasement of Gaza's rulers
Israelis woke up to an unusual sight on Monday as a giant billboard of Hamas leader Ismail Haniyeh in a revealing bathing suit carrying a suitcase of money, adorned a building along Tel Aviv's main highway.

The controversial billboard that overlooks the Ayalon Highway was put up by the Israel Victory Project, a Middle East Forum initiative meant to steer U.S. policy toward backing an Israel victory over the Palestinians to resolve the decades-long conflict.

The photoshopped image of Haniyeh shows him wearing a speedo on what appears to be a beach, holding a suitcase full of cash and a caption in Arabic, which translates as: "Thank you Israel, I love you. Ismail."

The move is part of Israel Victory Project's campaign against what they perceive is Israeli government's weakness in the face of the threat coming from the Gaza Strip.

The campaign appears to oppose the transfer of millions in Qatari air to the Hamas-controlled enclave as part of the indirect negotiations for a long-term ceasefire arrangement.

"Israel has forgotten how to win since Oslo," said the Forum's director Gregg Roman. "In return for handing out bags of cash to jihadis, Israeli children must run to bomb shelters. Our campaign speaks to the Israeli public that is fed up with 'conflict management' and 'mowing the lawn.'"

The Forum's founder and president is an American-Jewish historian, writer, and commentator, Professor Daniel Pipes, a long-time Israel supporter. Pipes has in the past been accused of harboring anti-Muslim views and once called to ban the niqab and burqa in public places.