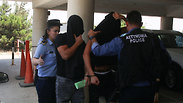 Suspects leaving a police facility
Photo: Reuters
The 12 Israeli teens suspected of raping a 19-year-old tourist in Cyprus are also suspected of conspiring top commit a crime, said an unnamed source who's involved in the investigation.

The 17-18-year-old suspects were arrested last week in the resort town of Ayia Napa, for suspicion of gang-raping a British woman in a hotel room where she and the group were staying.

The suspects' attorney said that the conspiracy to commit a crime suspicion could also affect the teens whose DNA will not be found on the rape victim's body. He added that he is in contact with the suspects' parents and is working on a legal strategy for the case.

At this time, one team is leading the investigation and suspects are held in different facilities in Cyprus; several have still not been questioned and DNA results are still not in yet.

An unnamed source said Monday that the Cyprus Police means to hold a line-up with 60 foils once the rape victim is in better mental shape. Local media said it is expected to take place Tuesday.