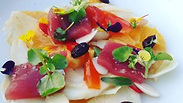 Summer time is beach time, and even those who prefer not to sunbathe or swim enjoy watching our beautiful Mediterranean sunsets while sipping a refreshing drink.
All of the restaurants on our list are located right on the beach, with direct access: straight from sand and surf to seats overlooking the sea. All have English menus and full bars -- serving specialty cocktails, beer and wine, as well as soft drinks -- plus, of course, good food: from snacks to entire meals, or dessert and coffee. They are listed here in alphabetical order -- and one is certified kosher.
Al Hamayim
Ambiance: The larger of our two restaurants at the northern end of Herzliya's beach, the veteran Al Hamayim switched from non-kosher to kosher just over a year ago. It has a nautical theme indoors, with plenty of room for private events in the main dining area, as well as in a separate room. The al fresco area is on a wooden deck just a fews steps up from the beach.

Hours: Sun-Thurs., 12.30-10.30; Friday, 09.00-14.00. Closed Saturdays.

Menu: There is a separate sushi menu, in addition to Middle Eastern/Western fare. The latter menu features two kinds of appetizers: Openings -- common Israeli salads, like labaneh and tehina -- and Starters, featuring raw fish choices. Main courses primarily revolve around fish, although a few vegetarian options are available throughout the menu.

Recommended: The honey-saffron spiced ricotta, studded with seeds; and the grouper fillet

Desserts: A dedicated pastry chef prepares fancy desserts, such as the deconstructed tiramisu -- a bar of layered chocolate and coffee parfait on a base of amaretto crunch, served with vanilla ice cream and topped with slivers of chocolate and toasted almonds

Al Hamayim. Kosher. Sharon Beach, Herzliya. Tel: (09) 950-1767
Manta Ray
Ambiance: Consistently rated one of Tel Aviv's best fish and seafood restaurants, Manta Ray -- a fixture of Charles Clore Park -- is a white-tablecloth restaurant indoors, with less formal seating on the outdoor deck (which is just a few feet away from -- although slightly above -- the umbrellas of beachgoers).

Hours: Open daily for breakfast, lunch and dinner, 09.00-11.45, 12.30-23.00.

Menu: The one-page menu manages to cover a lot of ground: its four categories are: Mezze, Fish, Seafood and Meats, and two salads listed under the intriguing heading Everchanging. Actually, the mezze as well are also constantly rotating: varying according to season, they are displayed tableside on a huge tray by the waiter, so diners may select as few or many as they wish.

Recommended: The Asian salad; the summer mezze feta cheese with watermelon and chili, as well as the amberjack sashimi with cucumber and pineapple relish; the shrimp with gnocchi, and the tuna steak with carrot and ginger.

Desserts: There are but two -- vanilla cream with passion fruit mousse, and a decadent chocolate sphere.

Manta Ray. Not kosher. Nahum Goldmann St. 4, Tel Aviv. Tel: (03) 517-4774
Parakalo
Ambiance: All of the Hellenic blue-and-white atmosphere of a Greek taverna, with a flagstone patio and tiled bar, situated right on the boardwalk connecting Tel Aviv and Jaffa (affording great views of the latter's old city, illuminated at night). There is live Greek music on Friday afternoons.

Hours: Open daily for breakfast, lunch and dinner, 09.00-00.00.

Menu: The food menu comprises five sections: Cold Mezze, Warm Mezze, (Savory) Pastries, Salads and Main Courses. With a total of 17 mezze, three salads and three savory phyllo dough pastries, there are plenty of options for vegans and vegetarians.

Recommended: The specially priced cold mezze platter (five small plates), zucchini fritters (one of the warm mezze), and the seafood mix in lemon sauce.

Desserts: Traditional Greek sweets, although the terrific house baklawa -- stuffed with cheese and whipped cream -- is a slightly different kind of treat.

Parakalo. Not kosher. Nahum Goldmann St. 6, Tel Aviv. Tel: (052) 444-6225
Yam 7
Ambiance: Tucked under the Dan Accadia Hotel, Yam 7 is perched over the beach. Its stunning view of the Mediterranean may be enjoyed through the picture windows of the indoor seating area, or from the al fresco tables on the deck.

Hours: Open daily for lunch and dinner, Sun-Thurs, 12.00-23.00; plus brunch on weekends, Fri-Sat, 08.30-12.00, 13.00-23.00.

Menu: It varies slightly by day and time, but the main dinner menu features Specials, Starters, Tapas, Main (pastas), Meat, and Sea. There is a children's menu and separate brunch menu on weekends.

Recommended: Among the tapas, the seafood arancini (in an unusual green curry sauce); at brunch, the house Croque Madame; at dinner, the Thai seafood salad and the sea bream fillet.

Desserts: There are a number of tempting desserts, especially the Paris-Brest (rings of choux pastry sandwiching dollops of mascarpone cream, topped with berries).

Yam 7. Not kosher. 122 Ramat Yam St., Herzliya Pituah. Tel: (09) 956-6950
Yama
Ambiance: The funkiest of our top five, Yama -- the first eatery you come to when descending to Sharon beach -- overlooks other beach restaurants. This open-air establishment has seating areas at a bar with a thatched roof, high tables with wicker chairs, and sofas with low tables. Rhythmic music permeates the atmosphere.

Hours: Sun-Thurs, 18.00-03.00; Fri-Sat., 13.00-03.00.

Menu: There are three sections: Sharing Appetizers, From the Market, and Main Dishes (fish and meat).

Recommended. The shrimps in butter and cheese sauce, and the spicy cherry tomato salad containing generous amounts of feta cheese.

Desserts. There were four explained by the waitress, who recommended the cheesecake. The only coffee is espresso.

Yama. Not kosher. Ramat Yam 6, Herzliya. Tel: (09)799-8870.