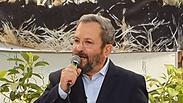 Ehud Barak
Photo: Gil Nechushtan
A former prime minister has apologized for his role in the violent thwarting of Palestinian riots that resulted in 13 Arab demonstrators being shot by police nearly two decades ago.
Ehud Barak, who has made a political comeback ahead of September's elections, now heads the Israel Democratic Party and hopes to unseat Prime Minister Benjamin Netanyahu, who has recently become the longest serving primer in Israel's history.
"There is no place for protesters to be killed by their country's security forces," Barak said Tuesday in an Israel Radio interview. "I bear responsibility for everything that happened during my tenure as prime minister, including the October 2000 events," he added.
"Once again I want to expresses condolences and apologize to the families whose pain must be infinite."
Barak was responding to an op-ed written by Esawi Frej, an Arab parliament member from the left-wing Meretz party who called on him to apologize for the October 2000 killings, which came in the opening weeks of the Second Intifada, when he was serving as prime minister.
The episode - dubbed by the media as "the October events" - were a series of protests in Arab cities in northern Israel that swiftly turned violent, escalating into large-scale rioting by Israeli Arabs throughout the entire country.
This led to counter-protests by Israeli Jews, which resulted in clashes with the police and eventually in the deaths of 13 Arab demonstrators and one Jewish Israeli civilian who was killed by stones thrown at his car.
Barak's apology was met with a lukewarm response from members of both the Meretz party and the ruling Likud.
"Barak is desperate … his party is barely passing the threshold and his political comeback has failed," said the Meretz party in a statement. "The main question is why Barak insists on staying in politics, knowing he won't be prime minister again."
"We are still waiting for Ehud Barak's apology for being the worst prime minister in Israel's history," said Likud's statement.