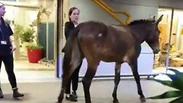 A mule escaped a village near the Ben Gurion Airport and went for a walk inside the terminal hall in the early hours of Wednesday, much to the shock of security personnel and stunt passengers.
The mule arrived at terminal 1 at 3 am on Wednesday, and after standing on the road for a few minutes, made its way to the departures hall.
After walking around the terminal hall for a few minutes, Agriculture Ministry personnel arrived and took the animal away.
Security employees took videos of the wandering mule as it entered the check-in hall undisturbed.
"Ruthie, come quick," a security employee is hear on the radio in the recording, with loud laughter in the background.
"This is the weirdest thing that ever happened to me during a shift," said a worker who was doing the night shift. "It was very very late, at first, I thought I was dreaming."
"But I wasn't! The mule was led outside, given food a drink and then taken away, she said.