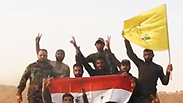 Members of an Iranian militia in Syria hold a Hezbollah flag
An ongoing push against Hezbollah in Syria
Analysis: With tensions in the Gulf rising, Iran is accelerating efforts to create a second front against Israel on the Syrian side of the Golan for its proxy terror group to use when an attack on the Jewish state would best suit their interests in their conflict with the United States
The strike Wednesday attributed to Israel in Tel Haraa in southern Syria should be seen the context of recent events that include a mysterious murder of a Druze resident of the area and an earlier strike in the same location.
Syrian media reported earlier this week of an explosion that killed Mash'hur Zeidan, a Druze resident of the village of Hadar in southern Syria, who was a known operative of the Lebanon-based Hezbollah terror group. He and his son died late Sunday night near the village of Sasa, 40 kilometers south of Damascus.
It is no secret that Israel is actively attempting to foil any Hezbollah efforts of entrenchment on the Syrian side of the Golan Heights, close to the ceasefire line reached after the 1973 Yom Kippur War.
The attack on Tel Haraa early Wednesday came about six weeks after a similar attack on this region which is known to have pro-Iran militias stationed in it.
According to the London-based Syrian Observatory for Human Rights, the attack caused both fatalities and damage, and was directed at Syrian regime forces as well as foreign militias loyal to President Bashar Assad.
Iran has been investing efforts in building a terror infrastructure close to the Syrian border with Israel and their forces on the ground are mostly Hezbollah operatives.
Iran's Revolutionary Guard Corps is banned from setting up a presence in the area following an agreement reached with the intervention of Russia, which ensures there are no Iranian forces less than 80 kilometers from the border.
Russian military police are enforcing the agreement, which is why Qasem Soleimani, who is in charge of Iran's troop deployment in Syria, has subcontracted to Hezbollah the task of creating infrastructure in the area. This infrastructure includes observation posts and intelligence installations that would support future Iranian-inspired Hezbollah attacks on Israel.
The escalating tension in the Persian Gulf may be putting pressure on Iran to accelerate its efforts to establish a front on the Golan Heights ready for at a time beneficial to Tehran.
Tel Haraa has been used by the Syrian army for many years to observe the Israeli side of the Golan, including with the use of electronic surveillance. A Syrian military base is also located there, providing support to the Iranian-backed forces in the area.
Syria took back the base and its surroundings from rebel forces last year, with the help of the Russian military and with the understanding that only Syrian troops were allowed in.
Iranian-backed militias - including Hezbollah - were to be redeployed at least 80 kilometers away. Yet the attacks attributed to Israel, which has said it will not allow Iran to set up shop on the Syrian side of the border, continue.