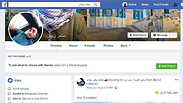 Fake Facebook profile which was part of an Iranian effort to enlist local agents
Shin Bet: Iran tried to enlist Israelis, Palestinians for espionage, terror
Security services in Israel spotted ongoing efforts in Syria on behalf of Iran over past months to recruit people via social media in order to gather intelligence and carry out attacks on Israeli civilian and military targets; Israeli authorities say attempts largely unsuccessful
The Shin Bet security service has uncovered an Iranian attempt to enlist agents in Israel, the West Bank and the Gaza Strip, Israeli authorities said Wednesday.
According to the security service, the Iranians reached out to potential operatives, initially via fake Facebook accounts and later through other messaging applications, but were for the most part unsuccessful.
The efforts originated in Syria with Iranian direction and under the supervision of a Syrian national known as Abu-Jihad, the Shin Bet said.
Reaching out and attempting to enlist agents, via social media is a known method used by intelligence organizations as well as terror groups including the Gaza based Hamas and the Lebanon based Hezbollah.
Over the past three months, security personnel coordinated with Israeli citizens who appeared to be targeted. Investigations showed communications with the Syrian based operatives developed quickly to a point whereby information was requested and plans to commit acts of terror against Israeli military and civilian targets were discussed.
But, the Shin Bet said, the vast majority of Israelis that were approached had refused to cooperate, suspecting they were communicating with hostile players.
The security service said the efforts were part of a succession of attempts in past months that have raised concerns that bad actors were reaching out online to Arab Israelis and Palestinians, attempting to enlist them for intelligence gathering as well as acts of terror.
Those contacted were asked to gather information about military bases, sensitive security instillations, public figures, police stations, hospitals and more apparently as part of plans for future Iranian-initiated attacks.
Israeli intelligence detected and monitored these attempts from the start, keeping close watch over the operatives abroad and those who appeared willing to cooperate with them locally.
"The security forces will continue in their steadfast efforts to foil any attempts by Iran and the terror organizations operating on its behalf against the security of Israel," the Shin Bet.
"It is important to make clear that any Israeli approached online by anyone possibly connected to a terror organization that they must immediately cease all communication and contact the police."