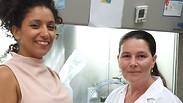 Israeli researchers Prof. Carmit Levy and Dr. Tamar Golan
Photo: Tel Aviv University
Israeli researchers have found that fat cells in melanoma - the most dangerous form of skin cancer - patients trigger metastasis making the disease more life threatening.

In an article published in "Science Signaling" medical journal, researchers claim melanoma cells migrate around the body with the help of fat cells that are near the tumor helping it proliferate into deeper skin layers and therefore more invasive.

The study conducted at Tel Aviv University, examined dozens of biopsy samples from melanoma patients treated at the Ichilov Medical Center in Tel Aviv and the Wolfson Hospital in Holon.

The researchers found that fat cells transferred proteins called cytokines, which affect gene expression, to the melanoma cells. The main effect of this transfer of cytokines was the reduction of the expression of a gene with the function of curbing the number of melanoma receptors.

Professor Carmit Levy, from the Department of Human molecular Genetics and Biochemistry at the Tel Aviv University's Faculty of Medicine, said: "The tumor can then better recognize the melanoma receptors stimulating the cells and rendering them aggressive".

"Melanoma turns fatal when it 'wakes up,' sending cancer cells to the dermis layer of skin, below the epidermis, and metastasizing in vital organs," she added.

However, she said, "these processes are reversable and when we removed the fat cells from the vicinity of the melanoma cells, we found the cells 'calmed down' and the malignant cells stopped their migration."

Dr. Tamar Golan, also from the Department of Human molecular Genetics and Biochemistry at the Tel Aviv University said that the same substances are being studied in pancreatic cancer research and are already in clinical trials for prostate, breast, ovarian and urinary tract cancers. "Our research is also showing encouraging results," she said.

Researchers now hope this breakthrough will help in the search for new cures.

"Our findings can be the basis for developing new drugs that may stop the progression of skin cancer using substances already familiar to the medical profession but never before used for such purposes," said Professor Levy.