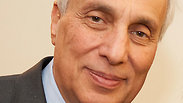 Rabbi Avi Weiss
Photo: Jay Bar-David
In Argentina, Jewish life still is cheap
Opinion: 25 years after the bombing at the AMIA community center that claimed 85 lives, Argentina still has diplomatic relations with Iran, which was behind the slaughter; and as Tehran has denied an extradition request for those implicated in the attack, Buenos Aires should break ties with Tehran until the perpetrators are brought to justice
July 18 marked 25 years since the attack against the AMIA Jewish community center in Buenos Aires. It was the largest attack against the Jewish community in the Diaspora since the Holocaust.

Eighty-five people were murdered; over 300 were injured. To date, the perpetrators have not been apprehended.

Soon after the devastation, I flew to Buenos Aires. The images of family members I met awaiting news about their loved ones will forever remain with me: Jonathan Averbuch, a 12-year-old who collapsed in his father's arms when hearing that his sister Yanina was gone; Damian Goldenberg who demanded "Where is God?" when told that his sister Cynthia Veronica had been found.

From the beginning I instinctively knew that then-president of Argentina, Carlos Menem, was covering up. I came to this conclusion after meeting with him one on one and being present at a full cabinet meeting where Menem tried to convince me that the government was doing all it could to capture the terrorists who had bombed the Israeli embassy two years earlier.

The information that he gave me was bogus. Sharing it with Israeli agents who were on the scene of the AMIA attack, they told me that Menem was out to dupe me.

The Jewish leadership in America failed to denounce Menem. Sadly, he was honored by the Appeal of Conscience Foundation two months after the AMIA attack.

When protesting at the event I was arrested along with a colleague, as Jewish leaders shouted at us that we were bringing shame on the victims of AMIA.

While visiting Buenos Aires a year after the AMIA attack, Juan Jose Galeano, the first special prosecutor of the case, subpoenaed me to his office, where he intimidated me, bullied me, and held me for many hours.

All of this, I believe, was meant as a warning that I'd be well advised to stop accusing Menem of covering up. I refuse to do so.

The investigation has been a disgrace. It's now well known that Menem was covering up. Experts say that the key moments to capture terrorists are immediately after the attack. Every day they are not found the trail gets colder.

Menem, right at the start, could have stepped in and demanded a vigorous search for the villains, but failed to do so.

Years later, former Argentine president Cristina Fernandez de Kirchner tried to bury the whole investigation when under her presidency when a Memorandum of Understanding was signed with Iran to jointly investigate the AMIA attack.

It was while she was president that special prosecutor Alberto Nisman was killed – a day before he was scheduled to charge Kirchner with a cover up.

And yet, Menem and Kirchner both serve today as senators, giving them immunity from prosecution. Rather than having this honor, they should be hauled into court and charged for being complicit in the attack.

If justice cannot be done in Argentina, perhaps there is recourse to bring them before the International Court of Justice in The Hague.

I remember vividly being in Argentina for the 10th anniversary commemoration for the AMIA bombing.




A new president – the late Nestor Kirchner (Cristina's husband) had taken office. Many in the crowd believed that justice would finally be done.

But justice was not done.

Present Argentine President Mauricio Macri should feel pressure to do more. Argentina still has diplomatic relations with Iran.

Let's get serious. With Iran having denied Argentina's request that Iranian officials implicated in the AMIA attack be extradited, Argentina should break relations with Iran until the perpetrators are brought to justice.




This is not the time to cozy up to the Argentine government, but rather, in the words of the Bible, declare, the voice of the bloods of our sisters and brothers cry out from the ground.

Yanina, Cynthia Veronica, and all the others who were slaughtered deserve to be heard.

Their cries and the cries of their family members cannot go unheeded, not only for their sake but for the wellbeing of all of humankind.

When terrorists are not apprehended, it sends a message to other terrorists that they can terrorize with impunity.

The blood of the AMIA victims still cries out from beneath the ground, demanding justice.

Rabbi Avi Weiss is founding rabbi of the Hebrew Institute of Riverdale and a longtime activist for Jewish causes and human rights. His most recent book, Journey to Open Orthodoxy, was just published.