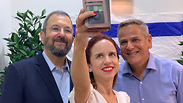 Ehud Barak, Stav Shaffir and Nitzan Horowitz
Israel's left-wing unites under new party ahead of September elections
Meretz and Ehud Barak's recently established Israel Democratic Party are joined by Stav Shaffir - who has decided to leave Labor after its leader Amir Peretz ruled out political mergers with other left-wing factions - to form 'Democratic Camp' party
Israel's left-wing Meretz party and former premier Ehud Barak's Israel Democratic Party join forces ahead of September 17 elections to form a new political faction called "The Democratic Camp."
They are joined by Labor lawmaker MK Stav Shaffir, who has decided to leave the party after its leader Amir Peretz has ruled out any political mergers with other left-wing parties ahead of the September vote.
Meretz Chairman Nitzan Horowitz will lead the newly established faction with Shaffir being placed second on the party list and Barak all the way down at tenth place. Together, the group aims to pose a powerful contrast to Prime Minister Benjamin Netanyahu's conservative ruling Likud party.
With just a week left to present the final lists for the elections, all sides were concerned they might not get enough votes by themselves to cross the electoral threshold.
"The founders of this union believe the establishment of The Democratic Camp is the first and necessary step in the mission to steer the State of Israel in the right direction," said the new party in an official statement.
Meretz lawmaker Tamar Zandberg, a former party leader, called it a "dramatic move to strengthen the left" and a "significant boost to justice and equality as an alternative to the corrupt and messianic right."
According to the agreement reached overnight Wednesday, the Democratic Camp will not enter a right-wing coalition, while the party's main trio - Horowitz, Shaffir and Barak - are expected to be the head decision-makers of the newly established faction.
Sources said that Barak didn't ask for any kind of commitment to be made minister, nor does he intend to serve as an MK in case the Democratic Camp fails to become part of the next government.
"The Labor party now presents a clear ideological and social alternative to the right-wing bloc, which will enable us attract new electorate in order to replace Netanyahu," the Labor party said in response to the merger.
Associated Press contributed to this report