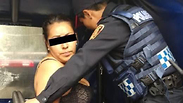 Esperanza Gutiérrez Rojano suspected of murdering two Israeli men in Mexico City
Two Israelis shot dead at luxury restaurant in Mexico
One of the victims is well-known felon who'd spent years in Israeli prison; female suspect, who was detained by the police, claims to have been motivated by romantic interests; authorities are investigating whether her actions are connected to settling of scores among criminals
Two Israeli citizens, one of whom a well-known felon who'd spent many years in Israeli prison, were shot dead early Thursday at a restaurant in Mexico's capital.
Two others, including a local police officer, were wounded during the shooting at "Hunan" luxury restaurant in Mexico City.
Shooting at Hunan restaurant
The police have the murder suspect - identified as 33-year old Esperanza Gutiérrez Rojano - in custody. The woman told police she had killed her partner, a famous oulaw because she suspected he was unfaithful to her.
The police however are checking other avenues of investigation including the possibility that the murder was part of a settling of scores between criminals.
Initial findings of the investigation show that Rojano sat in the restaurant a few meters away from the Israeli victims and shot them both in the back, causing panic among the patrons.
Two other people were said to have helped her, but both fled the scene and police are examining security camera footage in their efforts to track the them down.
The suspect told officers that she had purchased the murder weapon for 7,000 Mexican Pesos (NIS 1,300 or $368).
The incident comes one day after Erez Akrishevsky, a convicted felon who had escaped prison 18 years ago and had lived in Mexico under the assumed identity of Ricardo Lopez, was detained in Israel. He was captured in Cancun earlier this week in a joint operation of local and Israeli police.
Latin America has become a haven for Israeli fugitives of justice and Akrishevsky was in close contact with other criminals who had gone to ground after run in's with the law in Israel and had ties with local crime organizations in Mexico and elsewhere, enjoying their protection and cooperating with them.