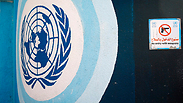 UNRWA offices in Gaza
Photo: AFP
An internal report by the United Nations agency for Palestinian refugees says there has been alleged mismanagement and abuse of authority at the highest levels of the organization, at a time when it faced an unprecedented financial crisis.

The alleged irregularities contained in the report produced by the ethics department of the United Nations Relief and Works Agency (UNRWA) are currently being examined by UN investigators.

The UNRWA said it is cooperating fully with the investigation but could not comment in detail as the investigation is currently in progress.

AFP has obtained a copy of the report, which describes "credible and corroborated" accusations of serious ethical abuse involving senior officials of the institution, including Commissioner-General Pierre Krähenbühl.

The alleged charges include "inappropriate sexual acts, nepotism, reprisals, discrimination and other abuses of authority (committed) for personal gain, to suppress legitimate differences of opinion."

The report was sent to UN Secretary-General António Guterres in December and UN investigators visited UNRWA offices in Jerusalem and Amman to gather information regarding the allegations, according to sources close to the matter.

A senior official named in the report has left UNRWA due to "inappropriate behavior" in connection with the investigations, while another resigned for "personal" reasons, the organization said.

UNRWA said in response to queries by AFP that it is probably "one of the most monitored UN agencies because of the nature of the (Israeli-Palestinian) conflict and due to the complex and politicized nature of the environment in which it is operating."

"In the past 18 months, UNRWA has faced intense financial and political pressure, but all of its staff have stayed the course, helping 5.4 million Palestinian refugees as it weathered a financial crisis that was unprecedented in its 70 years of existence," the agency said.




In another statement sent to AFP, Pierre Krähenbühl said that, "if the ongoing investigation - once completed – were to present conclusions requiring corrective measures or other management measures, we would not hesitate to take them."

Founded in 1949, UNRWA operates schools and medical services to millions of Palestinian refugees in Jordan, Lebanon, Syria and the Palestinian Territories. It employs 30,000 people, mostly Palestinians.

The United States halted all funding to the agency in September 2018, calling it an "irredeemably flawed operation."

"The administration has carefully reviewed the issue and determined that the United States will not make additional contributions to UNRWA," said State Department spokeswoman Heather Nauert in a statement.

She added that the agency's "endlessly and exponentially expanding community of entitled beneficiaries is simply unsustainable and has been in crisis mode for many years."