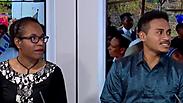 Tikva and Daniel, members of the Indonesian Jewish community, on a visit to Israel
Indonesia's small but determined Jewish community
The Jews of the largest Muslim country are descended from those who fled forced conversion in Peru; they number in the scant hundreds and practice their faith in secret, but now they have the support of Jewish organizations abroad - and two of them have even dared to visit Israel
Despite the dangers and despite the fact that is not easy being Jewish in Indonesia - the largest Muslim country in the world - two members of the Torat Chaim community in the north of the country dared to visit Israel to study Judaism at the Machanayim Yeshiva operated by the Ohr Torah Stone Modern Orthodox movement.
Tikva and Daniel, who arrived in Israel earlier this month, intended to return to Jayapura, Indonesia to teach others in their community about Judaism.
"It's hard to be a Jew in Indonesia," said Tikva. "As Jews, we hide our identity. It's dangerous to admit that we're Jewish, because it's illegal - it's a Muslim state."
For example, it is illegal to maintain a Jewish lifestyle in Indonesia. "You cannot get married, it's difficult," she said.
"They knew they were Jews," said Rabbi Eliahu Birnbaum, the head of Ohr Torah Stone emissary programs.
"The four elders of the tribe, called the Melamedim (teachers of Hebrew and Jewish customs), passed on the tradition, because they were a minority within the largest Muslim country in the world and were made to live as forced converts."
'A deep Jewish identity'
The Jews of Indonesia are descendants of Jews who emigrated from Peru some 400 years ago, after Catholic missionaries forced them to convert. The same Jews arrived in Peru after the expulsion from Spain and Portugal, but there too they were made to convert and fled.

"It's true that as of today they live as Jews and not as forced converts," Rabbi Birnbaum told Ynet.

"They have a synagogue, Torat Chaim, they keep Shabbat and the high holidays and they have a deep Jewish identity. I met Daniel and Tikva on a visit to the community in Indonesia, and I felt that they could be the leaders of the community."

Although the family knew that they were Jews, Daniel says they only began to study Judaism seven years ago.

"We began to observe Shabbat and study Torah until the Indonesian woman who was our teacher organized the community and introduced us to Rabbi Tovia Singer, from whom we learned."

Rabbi Singer, who later became the rabbi of the country's Jewish community and recently who immigrated to Israel, was invited to Indonesia by the Etz Chaim (Tree of Life) organization.

There the rabbi met Jews who had been Messianic Jews for many years, but after three days of study and Q&A sessions, the community voted to stop believing in Jesus and to go back to being Jews.

Despite the danger, Tikva and Daniel decided to study Judaism in Israel and then return to Indonesia.

"I think this is a great responsibility for me. With the help of God, I will work on it and become a leader," he said, and expressed the hope that one day he will live in Israel.

According to Rabbi Birnbaum, there are some 100 Jews from all over the world living in Jakarta, and there are other smaller communities throughout Indonesia.

Approximately 400 Jews (or Judaizers – Christians who believe it is necessary to live a Jewish way of life) lead an entirely religious lifestyle in Indonesia, the largest Muslim country in the world.

Hundreds of other people claiming to be Jewish are also living in various communities throughout Indonesia.

"Surprisingly, Judaism is beginning to reawaken and find renewal in Indonesia," Rabbi Birnbaum said.