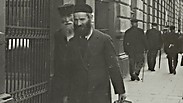 A Jewish man in the streets of Krakow
Photo: The National Library
Israel's National Library has released a unique collection of photos of Polish Jewry that appear to have been taken in 1933, just a handful of years before the thriving community was almost completely destroyed by the Nazis.
The pictures were taken by a French veteran who went on a journey through Poland with a group of WWI veterans.
The photos, which the library got hold of several years ago, show daily life in the Polish cities of Warsaw and Krakow that at the time had the biggest Jewish community in the world.
The French veteran group went on its journey to Poland this week 86 years ago, on July 30th, 1933.
They were received ceremoniously by army personnel everywhere they went despite the visit being a simple summer holiday for the veteran delegation, in a Polish effort to preserve and increase the alliance with France considering Warsaw's military and political fragility.
One of the French team members had a camera. In the early 1930s, cameras became cheaper and easier to maneuver and amateur photographers became more common. He created a neat photo album with vivid explanations about what he had captured on film.
The team of veterans left Strasburg after a military ceremony and crossed into Germany, and later Austria. The Nazi regime was puzzling to the French in 1933, and the team took pictures with a sign saying "People of Germany! Fight with Adolf Hitler for a free Germany!" at the Strasburg border.
When the team arrived in the Polish capital, they surprisingly went to visit Nalewki Street, also known as "the Jewish street", probably as an exotic attraction, to see the foreign looking minority who wears different clothes and has unusual customs.
The photographs convey bustling Jewish life shortly before it disappeared, as did Nalewki Street. Signs in Yiddish and Polish are seen decorating small shops: the paperware shop, Goldman's furrier shop and a wine shop. The streets are crowded with people.
The group continued to Krakow, Poznan, Zakopane and Gorlice and received with cheers and crowds.
In Krakow, the Frenchman took pictures of Jewish figures in one of the city's streets that will later become a Jewish ghetto, with the street's residents sent to the death camps.
The photo album ends on an emotional note, with farewell greetings from a Polish girl and her friends, who wished the French veterans a good journey, saying: "Long live the alliance between France and Poland!"
Six years later, France broke that alliance when Nazi Germany conquered Poland. The streets became vacant, and the Frenchman's photos remained a silent testimony for a world that once existed.