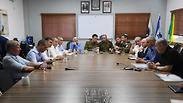 Israeli cabinet meeting in Jerusalem (Photo: GPO)
Photo: GPO
Israel plans Palestinian housing construction in apparent gesture to U.S.
No ministers object when Netanyahu raises issue at two consecutive cabinet meetings, but settler leaders slam proposal; building work would be first government-sanctioned project of its kind in four years, thought to be in response to White House pressure
Prime Minister Benjamin Netanyahu is promoting a new plan to build 700 housing units for Palestinians alongside 6,000 housing units in West Bank settlements, in an apparent response to American pressure. All of the construction is planned for Area C, which is under full Israeli civilian and security control.
The plan, which was first reported by the Israeli media on Sunday, was presented to cabinet members and discussed over two meetings of the cabinet, held Sunday and Monday.
No decisions have been made so far regarding the plan, although none of the ministers have announced their objection to the proposal and it is believed likely to be passed.
The current change in Netanyahu's policy seems to be a result of pressure from the U.S. administration to advance Palestinian housing projects in Area C.
President Donald Trump's peace team, led by son-in-law Jared Kushner and special Mideast envoy Jason Greenblatt, is expected in Israel within days as part of a Middle East tour.
According to observers, Netanyahu has included construction inside the settlements in order to sweeten the pill of the Palestinian housing plan for his critics on the right.
There has been no substantial Palestinian housing developments allowed in Area C over the past four years of right-wing Netanyahu governments, while thousands of housing units have been approved inside settlements.
In 2017, some 3,100 units were approved for settlements, and in 2018 that number increased to 3,155.
In 2016, a plan was given preliminary approval by the security cabinet to build 5,100 housing units for Palestinians near the West Bank city of Qalqilya, adjacent to Route 6 highway, a major artery that runs along the Green Line, Israel's pre-1967 border with the West Bank.
The plan included construction of industrial and commercial buildings as well as recreational facilities such as sports facilities and a zoo.
The approval of the plan caused outrage in right-wing circles and in July 2017 it was suspended. Meanwhile, Israel has over the past two years destroyed 400 homes belonging to Palestinians, that were built without the proper zoning licenses.
West Bank settler leaders Yossi Dagan and Israel Gantz issued a statement expressing their objection to the reported plans for Palestinian housing.
"We are concerned over reports that a construction plan for Palestinians in Area C is being discussed," they said. "The Palestinian Authority, with the help and financing of foreign organizations, is conducting massive illegal construction in the area in order to create a terror state in the heart of the country."