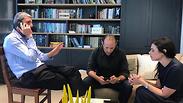 Right wing leadership negotiating joint list
Ayelet Shaked must now prove her political power
Opinion: If the new head of the United Right delivers on her electability and leadership promise by bringing her party into the Knesset with sufficient negotiating power to take on Netanyahu, she will have propelled herself back into a position on the national stage
Voters to the right of the Likud party were forced to hold their collective breath for quite a while before the leaders of their bloc, Rafi Peretz and Bezalel Smotrich on one hand and Naftali Bennett and Ayelet Shaked on the other, finally reached an agreement to run together in the September elections.

A long negotiation process was perhaps unavoidable, however, given the differences in positions - but the wasted time came at a cost.




Many supporters of the far-right parties have developed anger and resentment towards their leadership during this period, and these sentiments must now be reversed if a campaign to win voters is to be successful.

The name of the game from now on is conducting a good campaign.

The New Right Party's failure to pass the threshold in the April 2019 ballot was down to a poor campaign strategy, while the Jewish Home's campaign, was in hindsight also far from effective.

The problem is not in the early stages of a campaign. The challenge is in combating the blitz expected from Netanyahu's people in the final days before the elections, when voters will be subjected to dire warnings that the right-wing as a whole was about to lose its government unless everyone voted Likud.

In order to run a good campaign, candidates must both show leadership skills and be attuned to their constituents and supporters.

The task is this time placed firmly on Ayelet Shaked's shoulders. Her skills as the leader of this political union will be tested to the extreme.

Shaked will have to deliver on the assumption that she has the ability to attract the largest number of voters, but will also be tested on her ability to coordinate between the various parties and factions involved in this old-new union.

Her first task was bringing about the agreement to unite and that was achieved Monday, despite quite a bit of disagreement.

Her next challenge will be leading the election campaign. If successful, she will be viewed as a political miracle.

After having been banished from the Knesset last April, a good result in September will propel Shaked back to the national stage, just a few months after it seemed possible that she was gone for good.

But now she has been given the power, she has to deliver.