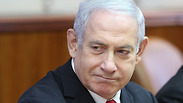 Prime Minister Benjamin Netanyahu
Photo: Amit Shabi
Israel approves plan to build 700 Palestinian homes in Area C
For the first time in years, Israeli government approves construction for Palestinians living in West Bank's area under full Israeli civil and security control as part of a broader plan which includes 6,000 housing units for Israeli settlers
The security cabinet on Tuesday unanimously approved Prime Minister Benjamin Netanyahu's plan to build 700 housing units for Palestinians living in the West Bank's Area C, which is under full Israeli civil and security control.

The move represents a shift in the policy of Israeli government which over the past four years did not approve any construction for Palestinians in the area.

The proposed construction is part of a broader plan which also envisions some 6,000 housing units for Israelis living in Area C.

All cabinet ministers voted in favor of the proposal, including Transportation Minister Bezalel Smotrich and Education Minister Rafi Peretz, who are known for their right-wing nationalistic views.

"The construction - meant solely for native Arab residents of Area C - will be conducted in a way that benefits Israel's security and strategic interests," said Smotrich after the vote.

Senior Israeli officials told Ynet the plan was approved after a careful consideration in order to make sure it wouldn't harm the state security and the interests of neither Israeli military nor the Jewish settlers. One official added the decision to approve the plan is a strategic one due to Israel being the one announcing plans for construction in the area and not the Palestinian Authority.

Sources also said Netanyahu's insistence to include hundreds of housing units for Palestinian residents of Area C appears to have stemmed from the pressure being applied on his government by the U.S. President Donald Trump's administration.

Senior Trump adviser Jared Kushner and Middle East envoy Jason Greenblatt are expected to arrive in Israel in the coming days as part of their regional tour meant to promote the long-delayed U.S. Mideast peace plan.