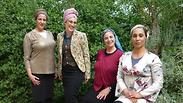 Azamra, Aderet, Ilana and Shiran of the Kama Party
Photo: Courtesy
Shortly before the deadline for handing in Knesset lists for the September elections, it appears that only half of the 47 parties that ren for the April elections will try their luck in the upcoming polls.

One surprising small party is made up of wives of Jerusalem cult leader Daniel Ambash, who was imprisoned in 2011 for sexual abuse and holding a person under conditions of slavery for 26 years.

Ambash, who is a Breslov Hassidic man, was married to six wives and had more than 10 children by them. Now, four of Ambashe's wives established the Kama party, that sets to promote the rights of the individual, and make up half of its members.

In 2011, police forces raided the homes of Ambash and his wives in Tiberias and Jerusalem and the children were removed from their homes by welfare authorities. Ambash's appeal was denied in 2018 by the High Court.

Four of the wives, Azamra, Aderet, Ilana and Shiran, still live under the same roof and recently filed a request for conjugal visit with Ambash. Now, the four have decided to take their struggle to the politics sphere, and formed a party that announces that the state has no right to intervene in citizens' personal lives as long as no one is harmed.

The party sets to fight for the establishment of supervising bodies over authorities, change the judicial system and include juries in trials and limit authorities of welfare workers to remove children from their homes.

Aderet says she had "experienced the influences of how Knesset members behave," and that she "sees how badly things are done (in the country)."

She says the party that she heads has nothing to do with the punishment her husband is serving. "Many people struggle with the system, it's a social problem and not a personal one," she says.

Another small party that will run in the upcoming elections is Red and White – the Incorruptible, headed by Ami Feinstein, former vice mayor of the city of Rehovot, who became known for painting pavements in the city red and white (symbolling no parking).

A third candidate is Ron Kobi, mayor of the city of Tiberias, who is running as the Secular Right. Kobi became known in recent months for his struggle against the growing ultra-Orthodox nature of Tiberias and his fight over it with Interior Minister Aryeh Deri.