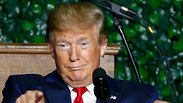 A senior White House official denied Wednesday that President Donald Trump is planning a summit of Arab leaders at Camp David to unveil his self-styled "deal of the century" for Middle East peace.

The plan to hold the summit was first revealed in Ynet's sister publication Yedioth Ahronoth on Wednesday morning.

According to the American official, "no summit has currently been planned."

He said that the U.S. team on the Middle East, which is headed by Trump's son-in-law Jared Kushner and is at present in the region, "will report back to the president, the vice president, the secretary of state and the National Security Council upon returning to discuss the many potential next steps to expand upon the success of the Bahrain workshop."

The official was referring to the June conference in Bahrain, which focused on advancing the peace process via economic benefits for the Palestinians but whose leaders were not invited to attend.

Kushner was meeting Wednesday with the Jordan's King Abdullah II in Amman and later in the day with Prime Minister Benjamin Netanyahu in Jerusalem. He and his entourage will then holds talks in Egypt, Qatar, Saudi Arabia and the United Arab Emirates.

A Washington official who has been following the preparations for Kushner's trip said that the current intention is that Netanyahu will not attend the Camp David conference, as his participation would make it difficult for Arab invitees to accept.

The summit was reportedly planned together with Netanyahu and his ambassador to the U.S., Ron Dermer.

Trump is expected to present the deal without going into binding detail. For example, he will agree to a Palestinian entity, but not necessarily a state, he is likely to say yes to a Palestinian presence in East Jerusalem but not necessarily as the capital of a Palestinian state, and so on.

The American denial came hours after the Palestinian Foreign Ministry condemned the planned U.S. summit.

The summit, according to the Palestinian Authority, is aimed at strengthening Netanyahu ahead of the September elections, establishing normalized Israeli-Arab relations and pushing aside the Arab League-endorsed Saudi peace initiative of 2002.

Furthermore, the Palestinian Foreign Ministry said, holding the conference is a sign that the U.S. does not view the Palestinian leadership as a partner for peace - and that Washington wants to reach an agreement without the Palestinians, thereby also eliminating the concept of a two-state solution.

The Palestinians have warned the U.S. against coming to the aid of Netanyahu, whom they say is trying to implement Israeli law in the West Bank and beyond.

Abbas is expected to reject the plan outright, while Netanyahu is likely to praise the move, but say he has many reservations, without elaborating. The Arab rulers will lend the process legitimacy by attending the Camp David conference.