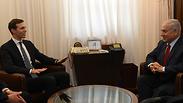 U.S. Senior Advisor Jarek Kushner and Prime MInister Benjamin Netanyahu meet in Jerusalem
Photo: GPO
There might be something to 'deal of the century' after all
Opinion: The long-awaited Trump peace plan is not expected to include an offer of statehood for the Palestinians, unlike offers made by previous administrations and it would be wise for Ramallah to understand there will be no better offer on the table
You would be hard pressed to find a single political commentator who takes Donald Trump's "deal of the century" seriously.

Politicians also say there is nothing to the plan, while the Palestinian response to it will as always be negative - not because of Trump or Benjamin Netanyahu, since they would respond negatively to a Meretz proposal as well.


The only politician who still goes around claiming that the Palestinians never rejected his proposal is former prime minister Ehud Olmert. But he cannot be taken seriously because he was the one who at the time wrote that his proposal was indeed rejected, a version of events confirmed by the Palestinians.

But as time goes by, it seems there might be something to the Trump plan after all.

Circumstances in the region have changed and are continuing to change.

Iran has assumed the role of enemy for most of the Arab world.

Israel has become a strategic alley thanks to Iran, a situation for which it should be grateful.

The Palestinian position is being criticized more and more in the Arab world, both on social media and by journalists and bloggers. Even some politicians are expressing such views - which would have been unthinkable just a decade ago.

The outline of the deal is being revealed bit by bit. It is not just the economic plan whose gist was presented at the Bahrain summit in June.

There is no Palestinian statehood in the "deal of the century," only autonomy, as U.S. Ambassador to Israel David Friedman, a silent member of the administration's Mideast peace team, has revealed.

Friedman warned the Palestinians that the Clinton, Olmert, Kerry and Obama proposals are no longer on the table.

This is a blow to Saeb Erakat's vision of Israeli-Palestinian peace as told to the Jordanian Ad-Dustour daily newspaper in 2009: "At Camp David (in 2000) we were offered 90% (of the West Bank) and Olmert offered 100% (in 2008)."

Now the architects of the peace plan are making clear that all those proposals are a thing of the past and there is no better deal on its way.

When Arab countries are disintegrating because of jihad on one hand and Iran on the other, no stable Arab government would see the formation of a new Arab state as a dream come true. A bold new peace plan should propose taking a completely different direction.

Given all of the above, there may be some logic to holding a summit at Camp David as a continuation of the Bahrain conference. And maybe, just maybe, some Arab states would be supportive of that.

Jordan will continue to release statements in support of a Palestinian state, but it is actually the last thing Abdullah's kingdom needs. Such an entity would be prone to expansion to its east as well as its west and could threaten Jordan.

Additionally, Hamas would try and most likely succeed in seizing control of such a state.

Netanyahu's plan to build 700 housing units for Palestinians in Area C can be seen as a gesture of good will, if a proposal of autonomy is considered.

Regardless of whatever left-wing or right-wing political views its population may hold, a proposed peace settlement that would ensure Israel's continued existence as a Jewish and democratic state - and prevent a bi-national state down the road - is the best option.