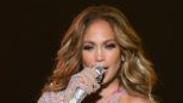 Jennifer Lopez in Tel Aviv
Photo: Raz Gross
Never let it be said that Jennifer Lopez engages in half measures, wowing thousands in Tel Aviv on Thursday night on her debut appearance in Israel, as as part of her global It's My Party tour, celebrating her 50th birthday.
Miss Lopez made quite the entrance, promising and delivering on a show filled with energetic dancing, sequins, perfect bodies and an abundance of glitter - both in her costumes and in an explosive finale.
"Tel Aviv, we're only here for one night, let's make the best out of it!," Lopez said to whoops and cheers from the delighted audience .
The hits came fast and frequently, as she opened with Medicine followed by Love don't Cost a Thing.
After that came a quick costume change, replacing a glittery skin-tight leotard for white chaps that revealed the part of her body for which she is famous - giving the audience a shake or two of that perfectly toned tush as she sang Dinero while the crowd was showered with sparkling confetti.
Next came I'm Real, and all-time favorite Jenny from the Block. "It's time to hop on the plane to New York and jump all the way to the Bronx!" Lopez told the crowd.
And then came another costume change, and she emerged in a stunning low-cut scarlet ball gown as she paid tribute to her Latin roots and Selena Quintanilla, the tragic young Mexican American singer who Lopez played in a 1997 biopic that proved to be her breakout role.
The song Si Una Ves from the film Selena, was followed by Ain't Your Mama and All I Have.
A short break allowed her to change yet again, emerging in a blue number and sunglasses to sing Te Bote and Te Gusto in Spanish.
The diva then engaged in a brief (and somewhat amusing) exchange with an audience member, asking him how to say 'I love you' in Hebrew.
The clearly excited fan told her to say 'Ani Ohev Otach' which is how a man would say it to a woman, but nothing seemed lost in translation as the crowd roared its affection back to her.
The show ended with her hits Waiting for Tonight, Dance Again and On The Floor, the latter with a throbbing sampling of Lambada, and the singer exited the stage in a cloud of more glitter, with a promise to return for another show.