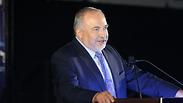 Yisrael Beiteinu head Avigdor Liberman (Photo: Motti Kimche)
Photo: Motti Kimchi
Likud members to sign commitment to Netanyahu as party leader
The move comes in response to Avigdor Liberman suggesting earlier that a national unity government is the only coalition he will join and if PM is the only impediment in the way of such a government being formed, he should and could be removed
The supporters of Prime Minister Benjamin Netanyahu began preparing a commitment to be signed by Knesset candidates from the ruling Likud party, stating they will only back the prime minister as the party's leader.
The move came in response to Avigdor Liberman who on Saturday suggested that Likud should name an alternative leader to Netanyahu if he remains an impediment to the creation of a successful coalition.
Likud candidates are being asked to return the following commitment signed: "We, candidates for the Likud party's list for the 22nd Knesset will not accept any dictate from any other party regardless of the election results, as to the leadership of Likud chairman Benjamin Netanyahu as the only candidate for prime minister"
some Likud members have expressed their anger to Ynet over having to sign the commitment calling it a dictatorial move.
Netanyahu failed to form a coalition after the April elections because Liberman refused to join, sighting his opposition to the ultra-orthodox parties' refusal to accept his proposed draft bill as the reason.
Liberman said in the interview that he would suggest Likud pick Knesset speaker Yuli Edelstein as a replacement for Netanyahu, if Likud is unable to form a narrow rightwing coalition.
Weekend polling indicates the ruling Likud will have just one seat advantage over Blue and White party if elections were held now, but neither will be able to secure a narrow coalition, leaving a unity government as the only option open if a third election cycle in 2019, is to be avoided.
The Blue and White leaders have publicly announced they would not join a government lead by Netanyahu because of corruption charges pending against him.
After the Liberman interview Yair Netanyahu, the prime minister's son posted on twitter: "Liberman let out that he and Edelstein are planning a coup to remove my father."
The post was soon removed, and Edelstein posted a denial on his own twitter account reiterating that Netanyahu is the only candidate Likud has to lead the next government.
Minister of Communications Dudi Amsalem on Sunday accused Liberman of lying to his voters and of disqualifying 30% of the electorate, referring to the ultra-Orthodox and hard-right nationalist religious parties. "If we were not in Israel, I would think Liberman were anti-Semitic" he told KAN radio.
Former Finance Minister Yair Lapid, from Blue and White said Sunday that Netanyahu is right to worry about his party's loyalty to him because members have been discussing a successor with him and his party.