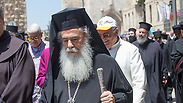 Greek Orthodox Patriarch Theophilos III
Photo: Ohad Zwigenberg
Greek Orthodox church files new suit in Jerusalem property battle
Supreme Court ruled in favor of Ateret Cohanim, which seeks to increase the Jewish presence in Arab areas of capital, in 2004 purchase of three Old City properties; but patriarchate says deal involved bribery, claims to have 'clear proof' of corruption
The Greek Orthodox Church on Monday filed a new lawsuit in Jerusalem District Court against the Ateret Cohanim settler organization in a bid to overturn a Supreme Court decision upholding the sale of three properties in predominantly Arab parts of the Old City of Jerusalem.
The Supreme Court ruled in June in favor of Ateret Cohanim, which seeks to increase the Jewish presence in Arab areas of the holy city. The sale included two Palestinian-run hotels — Imperial and Petra — located near the Jaffa Gate, and another building near Herod's Gate.
The ruling paved the way for the three properties to be leased for 99 years to Ateret Cohanim, which intends to evacuate the residents of the properties.
The Greek Orthodox Patriarchate initially denied the sale ever took place and said it involved acts of bribery and was illegitimate; however, both the Jerusalem District Court and recently the Supreme Court denied their claims and approved the legality of the sale.
But the Patriarchate claimed in a statement Monday that it had "clear proof" of corruption in the long-disputed 2004 sale. The church claims that the sales had been approved by a former official who had no authority to do so.
"The Patriarchate stresses that its properties located within the walls of Old City Jerusalem are for the service of pilgrims and visitors of the Holy City especially those on the pilgrim route to the Church of the Holy Sepulchre," the Greek Orthodox Patriarchate of Jerusalem said in a statement Monday.
"The Patriarchate will continue to exercise its right and duty of defending itself, the holy sites and the Church heritage."
According to the church, Ateret Cohanim both falsified documents and bribed the official who agreed to the sales.
"The new evidence that the Patriarchate has obtained, confirm that Ateret Cohanim and its companies forged documents and initiated court proceedings based on these forged documents, despite Ateret Cohanim's knowledge that they were forged," the Patriarchate said Monday.
"The evidence shows that the suspicious deals of 2004 involved bribes by Ateret Cohanim, and all indications point to the bribes being paid to the then Patriarchate employee, Nicholas Papadimas."
Ynet's sister publication, Yedioth Ahronoth, also revealed that former manager of the Petra Hotel, Ted Bloomfield, had received funds for years from Ateret Cohanim in order to push for the sale to take place.