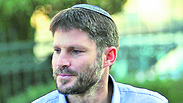 Bezalel Smotrich
Photo: Alex Kolomoisky
The transportation minister on Tuesday said he does not believe in religious coercion after being criticized for saying earlier he'd like Israel to be governed by Jewish law.
"I spoke to a room full of people from all walks of Jewish religious life and said we would all like to live in a country governed by the Torah and the Halacha. That is the religious will of any observant Jew," said Bezalel Smotrich in a statement. "But, in the same breath I agreed that we all understand we cannot, nor do we want to force our beliefs on others and that since we share our country with people who think differently, we must find solutions that are considerate of the public as a whole."
On Monday, Smotrich laid out his vision for Israel saying he hoped it would be "governed by the Torah and the Halacha" though this was not yet possible because "some people still think differently and we must all get along with them." According to the minister, most rabbis on the more liberal side of this issue are in agreement with him.
In a speech given to the Beit Hillel organization, comprising of 160 rabbis who claim to promote Halacha in a liberal and accepting manner, Smotrich said that as minister, he instructed that there be no work done on Shabat on infrastructure or for maintenance.
"All problems can be solved with care and attention" he said, "just like we know how to maintain an industry while protecting ecology, we also know how to maintain a modern state with massive infrastructure needs, without desecrating Shabbat."
"I don't want to look back 10 years from now and kick myself for compromising on matters of principle concerning religion and state"
Smotrich told his audience, "I believe Judaism's popularity is on the rise, I believe the people of Israel will soon return to the faith, I believe a day will come when everyone will want to become Jewish, but we (the religious) have always been asked to compromise".
"Religious law must be taken into account in the planning stages so that the dilemma of whether or not to block traffic on Shabbat would not be relevant," Smotrich said, referring to a public debate on the construction of a pedestrian bridge in Tel Aviv which requires work on Saturdays in order not to disturb commuters on weekdays.
"Society pays for what it deems important and Shabbat as a value is important" the minister said, adding that roads are closed for parades as well as sporting events, and can be closed for infrastructure needs.
Smotrich who is an outspoken far-right politician noted that religion like the government, can and should interject itself into the lives of citizens.
"The government makes decisions that affect us and impedes our liberties every day so it is simply about what decisions are in the public interest enough to justify coercion."
Finally the minister said that in the name of controversial liberal values, religious people are excluded from cultural events, or prevented from conducting themselves in the public sphere with modesty that demands men and women be separated. "We too can force our needs on others, provided we are convinced ourselves of the validity of our demands."
Chairman of Yisrael Beitenu party, Avigdor Liberman, whose election campaign highlights matters of religious coercion slammed the transportation minister. "Unbelievably, once again we hear Smotrich aspiring for the rule of Halacha and that if it were up to him and his friends, that would replace Israeli law," he wrote on his Facebook page.
"I have news for you, there will be no need for you to get along with us because after September 18 (a day after the next elections), a liberal unity government will be formed without you and anyone trying to coerce religious law on the country."
Israel Democratic Party also released a statement blaming the prime minister for "handing these people (referring to Smotrich and his political allies-ed) the keys to the country in an attempt to keep himself away from legal prosecution." he added.
"This election must be won because losing will mean Halacha law will govern Israel in exchange for Netanyahu's immunity from the law."