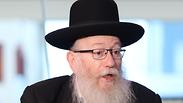 Deputy minister of Health Yaakov
Photo: Avi Mualem
Israel Police said Tuesday that it has sufficient evidence to recomend charges against Deputy Minister of Health Yaakov Litzman for fraud, breach of trust and witness tampering in multiple cases, including the extradition of former Melbourne school principal Malka Leifer, who is accused of child sex abuse.

The police also says it has evidence of Litzman's culpability including charges of bribery and breach of trust in another case involving a the business of a close associate. Litzman, an ultra-Orthodox party leader, is a key ally of Prime Minister Benjamin Netanyahu.

Malka Leifer has been fighting extradition to Australia where she must stand trial for multiple charges of sexual assault of minors committed over years, when she was principal of an ultra-Orthodox school, saying she is not mentally competent to stand trial.

Litzman is suspected of exerting unlawful influence on Health Ministry psychiatrists who evaluated Leifer's mental capacity to face an extradition hearing.

A decision by the Jerusalem District Court is expected on September 23.

When asked about the suspicions, Litzman told Ynet he does not know Leifer and does not wish to comment on the investigation but denied the allegations.

The police investigation into the conduct of Lizman included the suspicions he tried to stop his ministry's persecution of a food plant belonging to a close associate.

There too sufficient evidence was found to recomend charges against the minister.

Litzman was also investigated for attempting to arrange preferential treatment of convicted pedophiles serving in prison including attempts to secure early parole, despite the prisoners not having undergone the required treatment while incarcerated.

According to the police, some of these alleged violations acced the statue of limitations and in others, there was not sufficient evidence found to recomend charges.

The spokesman for the deputy minister said the Rabbi Litzman has always worked for the benefit of Israel's citizens in complete transparency and that he is certain that further review of the evidence will show the deputy minister acted according to the law.

Manny Waks who has been an activist on behalf of Leifer's victims said: "Today's police announcement is a much welcome development in this prolonged, sordid case.

"Those of us who have been following this case closely over the years have always wondered how it reached this level of farce - there have been over 50 court hearings, with no end in sight.

"It seems the truth is slowly coming to light; an alleged interference at the highest level, Israel's ultra-Orthodox deputy health minister. Ironically, the highest goverment representative tasked with the health and well-being of Israel's citizens".