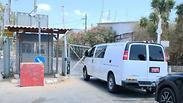 Ambulance arrives at Tel Hashomer base
Photo: Shaul Golan
A civilian IDF employee was killed Tuesday in an explosion that occurred at Tal Hashomer military base in central Israel, which left another worker lightly hurt.
The 38-year-old Shay Gabay from the town of Givat Olga in northern Israel, was critically wounded when a technical mulfunction caused by a fire extinguisher resulted ina powrful blast. He was taken to a nearby Sheba Medical Center where he died several hours later.
The military issued a statement shortly after offering their support and expressing their condolences to the family of the deceased.
This is the second explosion to occur at the base within the past three months.
In May, a warehouse at the base was set alight as a result of a mysterious blast. The fire was quickly extinguished preventing the flames from spreading.