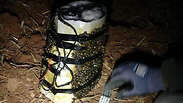 Shin Bet foils Hamas terror plot
Photo: Shin Bet
An explosive device prepared for use was found by the Shin Bet, IDF and police forces in Hebron inside a makeshift lab where it was made.
According to an official announcement Tuesday the device was to be detonated in Jerusalem.
According to the Shin Bet, a number of Hamas terror cells were uncovered in the West Bank all receiving instruction from Hamas in Gaza.
The cells had planned terror attacks against Israeli as well as Palestinian Authority targets.
The operatives in the West Bank were instructed to purchase lethal weapons, train for attacks including kidnapping, stabbing and shooting and recruit fighters for future operations.
The explosive device uncovered, was made by a cell receiving direct orders from the military wing of Hamas in Gaza
According to the Shin Bet, on June 29, 2019, security forces arrested 22-year old student who was recruited to build explosive devices for use by Hamas operatives. He enlisted the help of other students who were tasked with procurement of the needed ingredients to make bombs.
The explosive devices were hidden inside homes in the Hebron area placing the families in those homes at great risk.
Prime Minister Benjamin Netanyahu reacting to the news released the following statement: "I commend the ISA, IDF and Israel Police forces for the operational-intelligence effort that led to the thwarting of a terrorist attack that Hamas planned to carry out on our territory".