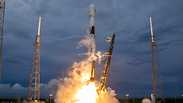 The launch of the Amos 17
Photo: SpaceX
CAPE CANAVERAL - Israel's Amos 17 communications satellite was launched successfully on Wednesday night from Cape Canaveral Space Center in Florida on a launcher owned by the American SpaceX company.

The launch began at 2:23 am with the takeoff of the Falcon 9 rocket booster, which carried the Amos 17 into space.

The Falcon 9's engines started firing precisely as the hour-long window for the launch began, after a half-hour delay due to a lightning storm in the area a few hours earlier.

Amos 17 launch (צילום: spacex)

A little less than three minutes after takeoff, the first section of the Falcon 9 successfully separated from the upper stage of the launch rocket and fell back to Earth.

The Falcon 9 was deemed in "expendable mode" for its third and final launch, carrying enough fuel to send the satellite into orbit, but not enough to return to Earth

SpaceX did however manage to retrieve at least one of the two sections of the launcher, using a specially designed ship on the Atlantic to retrieve it as it floated back to Earth using a parachute.

SpaceX founder Elon Musk tweeted footage of the boat, known as Ms Tree, catching the expensive casing used to protect the satellite during the launch in order to reuse it.

With the separation of the first section of the launcher, the Flacon 9 was propelled solely by the single engine in the second section, which was carrying the Amos 17. The second section put the communications satellite into a relatively low orbit and successfully detached after about half an hour.

Following the launch, Amos 17 will gradually make its way, using its own engines, to a geostationary orbit 36,000 kilometers above Earth, which it is expected to do within a week to two weeks.

This orbital path, which matches the Earth's own rotation, is considered ideal for communications satellites, since the satellites always remain above the same point on the equator, allowing them to provide continuous communications services to a particular region – in this case, parts of the Middle East, Europe and Africa.