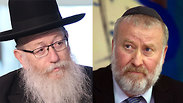 Yaakov Litzman, Avichai Mandelblit
Photos: Ohad Zwigenberg, Avi Moalem
Attorney General Avichai Mandelblit is likely to limit the authority and powers of Deputy Health Minister Yaakov Litzman (United Torah Judaism) in light of the Israel Police recommendation to prosecute him in two separate criminal investigations.
The Israel Police said Tuesday there is sufficient evidence to bring charges against Litzman for fraud, breach of trust and witness tampering in two cases, one of which relates to the extradition of former Melbourne school principal Malka Leifer, who is accused of child sex abuse and the second involving the business of a close associate.
Litzman, the head of the ultra-Orthodox United Torah Judaism party, has been a long-standing key coalition partner of Prime Minister Benjamin Netanyahu.
Australia has been pressing Israel to extradite Leifer, who fled Australia in 2008. She is wanted by Australian police on 74 sexual assault charges, including rape, involving girls at the institution.
An Israeli court ruled in 2016 that Leifer, who has denied the charges, was mentally unfit to face extradition and trial. She was re-arrested in 2018 after a police investigation cast doubts on her health claims, and is in prison awaiting the extradition ruling, which Jerusalem District Court is expected to deliver by September 23.
In a statement, police alleged that Litzman pressured court-appointed psychiatrists operating through the Health Ministry to support Leifer's mental illness claims.
Litzman denied the allegations, telling Ynet he did not know Leifer and had no wish to comment on the investigation.
"I answered all of the questions (from the police) and I strongly deny everything they are saying," Litzman said.
The second investigation concerns allegations that Litzman improperly intervened in an attempt to stop the Health Ministry's prosecution of a Jerusalem deli belonging to a close associate.
Police say there is evidence of fraud, breach of trust and bribery in the investigation into Litzman's actions to protect Beis Yisrael-Goldy's deli. The menu at the deli, which is just one block away from Litzman's home, includes the "Trump Chicken Breast."
A spokesman for the deputy minister said Litzman has always worked for the benefit of Israel's citizens in complete transparency and that he is certain that further review of the evidence will show that he acted according to the law.