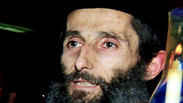 Rabbi Binyamin Herling
Photo: Tzvika Tishler
The father of murdered 18-year-old soldier Dvir Sorek paid tribute Thursday to his son whose murdered body was found in the West Bank earlier in the day, hours after he went missing from his yeshiva in the settlement of Migdal Oz.
"Anyone who did not know him lost out," said Yoav Sorek from his home in the settlement of Ofra.
"He helped the less fortunate around him when they needed a friend. He simply had a light in his eyes, but someone murderous took it away," he said.
"We were given a gift for almost 19 years - for such a gift we are thankful, but we will probably always carry this pain with us."
Dvir, who was a student in hesder yeshiva, a program which combines Torah studies with military service, was to be laid to rest Thursday at 8pm at the civilian cemetery in Ofra.
This was not the first tragedy to hit the Sorek family: Dvir was murdered 19 years after his grandfather, Rabbi Binyamin Herling, was shot dead in a terror attack near Nablus in October 2000.
Herling, a Holocaust survivor, was killed when Palestinian security forces and members of Palestinian President Mahmoud Abbas' Fatah movement opened fire on a group of some 30 Israeli hikers near Mount Ebal.


Four other Israelis were wounded in the attack near the mountain, which is mentioned in Deuteronomy during the Israelites' entry to the promised land.
The attack began about half an hour after the group of hikers finished praying and had begun to make their way to Mount Ebal, when gunmen opened fire from the Palestinian refugee camp of Askar.
Herling and the four soldiers guarding the group returned fire, but the rabbi was shot through the heart and died instantly during the attack. The group, whose trip had been approved by the IDF, could only be evacuated under the cover of darkness.
One of the survivors of the Mount Ebal attack, Eyal Luria, told Israel Hayom earlier this year: "They were shooting at us from the outskirts of Nablus and we couldn't move. It eventually turned out that at the start of the incident, Rabbi Binyamin Herling, who shot back, had been killed."
The rabbi left behind a wife and eight children, and is buried in the cemetery at the settlement of Kedumim, which he cofounded and where he lived.