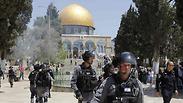 Temple Mount
Photo: Israel Police
Israel ends ban on Jewish worshippers at Temple Mount for Tisha B'Av
Decision comes as Al-Aqsa Mosque shut, security forces use stun grenades to disperse Muslim visitors to site after riots erupt; Jewish day of mourning for destruction of biblical temples coincides with Muslim festival of Eid al Adha
Israel on Sunday morning reversed its decision to bar Jews from the Temple Mount in Jerusalem on Tisha B'Av, the Jewish day of mourning for the destruction of the biblical temples that once stood at the site.

The initial decision to prevent Jews from ascending to the Mount was made in light of the fact that the fast day coincided with the Muslim festival of Eid al Adha and tens of thousands of Muslim worshippers were due at the site, which is also holy to Islam.




A short time earlier, major clashes erupted between Muslim worshippers and Israeli security forces at the Temple Mount, where large numbers had gathered to mark Eid.

The Al-Aqsa Mosque was closed as a result of the clashes and police began dispersing the worshippers using stun grenades.

Palestinian medics said at least 14 people were wounded, one seriously, in the skirmishes with police at the site.

Police said at least four officers were wounded, while witnesses said at least two people were arrested.

Following the clashes, security officials also decided that the Gates of the Tribes in the northeastern area of the Temple Mount would be closed to arriving Muslim worshippers. Visitors were allowed to leave via the gate, but the entrance was blocked.




"At one point, thousands of worshippers who were at the Temple Mount crowded into the area of the Mugrabi Gate and began rioting, shouting for nationalist slogans and throwing stones, chairs and other objects at the officers," the police said.

"In light of this, the district commander issued an order to disperse the rioters up using the crowd dispersal methods and restore public order. The Jerusalem District commander will carry out a further situation assessment later in the day."

In a video filmed on the Temple Mount on Sunday, Waqf director Azzam al-Khatib and Mufti of Jerusalem Muhammad Hussein are seen encouraging those chanting nationalist slogans, calling out to them: "In spirit and blood we will redeem you."

Jerusalem District Police bolstered their numbers on the streets for the Tisha B'Av fast and the Muslim Eid, mainly in the Old City and the predominantly Arab eastern neighborhoods of the capital.