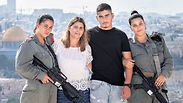 L-R: Kesem, Tehila, Liel and May Zada
Cop clan: Triplets enlist in Border Police together
Liel Zada joins his sisters Kesem and May in service as the Jerusalem trio come close to making their dream to serve together come true; mother Tehila says she is 'very worried, but at least I'll be able to visit all of them together in basic training'
Jerusalem triplets Liel, Kesem and May Zada have never been separated and they did not intend to let their national service change that.
All three are now new recruits in the Border Police, and their mother is both happy and nervous.
"My stomach turns with worry and excitement. My concern as a mother triples," says 41-year-old Tehila Zada as she embraces her three 18-year-old children. The girls – Kesem and May – enlisted last week and their brother Liel joined them Sunday.
The Zadas are the first set of triplets to enlist in the Border Police. Kesem was born first, May followed her after 15 seconds and little brother Liel was born 40 seconds later.
The trio, who also went to the same Jerusalem high school, have never been separated until last week, when the two sisters enlisted. On Sunday, Liel was among 300 others to join the corps.
This is the fourth year in a row that the Border Police has been at the top of new recruits' wish list for active service. According to Israel Police data, only one in 16 recruits who want to serve as Border Police fighters are admitted into the corps.
"We were raised on the Border Police," May says. "My aunt's husband, Roy Cohen, has been serving in the Border Police in Jerusalem for over 20 years, and we dreamed of serving in the Border Police together since we were children."
According to May, Cohen's father Uzi also served in the Border Police. He was killed in March 1996 by a passenger on a Jerusalem bus who blew himself up as a suspicious Cohen approached him. he may have died hismelf, but Cohen saved many of the passengers' lives.
Tehila, who works at Shaare Zedek Medical Center, says she is reassured by the fact her children will be together during their army service.
"As a mother, I am full of concern, but my biggest comfort is that all three of them will serve together as officers in the Border Police. It's a childhood dream come true."
Liel was initially assigned to the IDF Artillery Corps, and only after a long and hard-fought battle with the military was able to join his sisters.
"I am on cloud nine after being assigned to Border Police," he says. "I am really jealous of Kesem and May, who have already been wearing this uniform for a week."
Over the next four months, the threesome will go through grueling basic training.
"At least I won't have to wander around different military bases to visit the kids," says their mother. "I will see all three of them at Border Police bootcamp."
Tehila adds: "I'm the proudest mother in the world – to see this trio, who came into the world just 18 years ago turning into Border Police fighters, who will protect us, Jerusalem and the entire State of Israel."