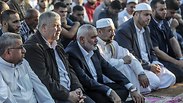 The Hamas leadership celebrates Eid al-Adha in Gaza
Photo: EPA
Hamas doesn't mind 'rogue' elements doing its dirty work
Analysis: The attempts by disgruntled members of the terror group to infiltrate into Israeli territory in order to carry out attacks are nothing but a tad inconvenient for the leadership, which would willingly claim any achievements as its own - even if it came at a cost of an arrangement with Israel
On this Tisha B'Av - which this year coincides with the Muslim holiday of Eid al-Adha - Israel could have easily found itself in the midst of another round of fighting in Gaza.
In fact, had it not been for the vigilant IDF soldiers monitoring the Gaza border, the swift response of the troops from the Golani Brigade and the lessons learned from similar incidents in the past, we would have been in a completely different situation.
The four Palestinian suspects who attempted to infiltrate the Gaza border overnight Friday were planning a major attack. This is evidenced by the variety of weapons they had brought with them as well as medical supplies and snacks in case they had to break their pre-Eid al Adha fast on Israeli soil.
It's unclear whether they had a clear plan to either kidnap a soldier or simply go on a killing spree. Most likely, they just wanted to make it into Israeli territory and then go with the flow.
Once the incident was over, the military once again opted to side with Hamas' version of events, according to which the militants were Hamas members who went "rogue," protesting a ceasefire arrangement between Gaza's rulers and Israel.
This version is actually not that far-fetched if we look at the situation on the ground. There are in fact some members of Hamas' military wing who believe that the "dollars for calm" deal with Israel is a disgrace to the organization's ethos. In addition, the images of the four suspects which surfaced after the incident show them praying at a mosque associated with the Islamic State.
In general, Gaza has been undergoing a religious radicalization, where women are often seen wearing Islamic State-like outfits covering them from head to toe except for two eyes peeking out of the all-black attire.
It is, however, safe to assume that what we're seeing is Hamas surreptitiously developing a new fighting method they've been trying on us recently, just like the rockets "mistakenly" being fired without the authorization of high-ranking Hamas officials.
Hamas' logic is both complex and simple at the same time. Hamas' leader in the Gaza Strip Yahya Sinwar wants to continue enjoying the fruits borne by the ceasefire arrangement but wouldn't hesitate to throw it all away if it yielded an even bigger achievement. Sinwar also believes that Israel doesn't want to be drawn into another war in Gaza, which gives him leeway for actions along the border.
Therefore, had the actions of the four Palestinians brought about a game-changing event, such as a kidnapping of an Israeli soldier, Hamas leadership would claim this achievement as their own. The fact that they'd been caught and turned into martyrs isn't terrible for Hamas, just somewhat inconvenient.
Sunday marks the start of Eid al-Adha, also called the "Festival of Sacrifice," characterized by great feasts that require financial resources. Although the economic situation Gaza has improved over the past year, it is still quite despairing.
More than 60 percent of Gazan youth are unemployed, leaving scores of young men with nothing to do during the day. Addiction to opioid painkillers has developed into an epidemic. Various charities, mainly Turkish- and Qatari-based, have been working overtime to provide hot meals and 100-shekel bills to the impoverished Gaza population, but they are transient by nature.
Hamas also realizes that Gaza is battered and exhausted, so their preferred scenario is to redirect the fire into the West Bank (as we saw last week with the murder of 18-year-old soldier Dvir Sorek) and even better - all the way to the Temple Mount.