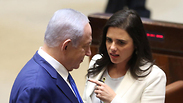 Benjamin Netanyahu and Ayelet Shaked in the Knesset
The leaders of the political bloc to the right of the ruling Likud party has pledged to hit back with an immediate and sharp response to any belittling comment made by Prime Minister Benjamin Netanyahu towards them or their allies.
This is a marked contrast to the previous election campaign, in which messages supporting Netanyahu were unequivocal.
The United Right party, which leads the bloc under its own chair Ayelet Shaked, fears a situation in which Netanyahu will once again increase the Likud's power at the expense of the entire bloc, and, learning this lesson from the last election campaign, it has decided to formulate a different, more aggressive strategy.
For example, Netanyahu turned to right-wing voters in a live stream appearance on his Facebook page on Friday, and urged them not to vote for any non-Likud party, fearing he would not serve as prime minister after the upcoming September elections.
"We wasted seven seats in the last elections and those who vote for another right-wing party will make the Likud smaller," Netanyahu said as part of a campaign aimed at increasing Likud's power over the other parties in the right, a campaign that is also expected to intensify towards September.
Netanyahu also accused Shaked of "currently" recommending Netanyahu to assemble the government, calling it "stutter" and implying that her support was fickle.
As part of the United Right's new policy, Shaked strongly attacked Netanyahu in return in her own Facebook live stream immediately after.
"We are the only ideological right," she said of her party. "We said we would recommend the right-wing candidate, which is Netanyahu. Enough throwing dust in the public's eyes.
"Instead of fighting with his natural partners, Netanyahu would be better off focusing efforts on enlarging the right bloc, if he really wants a right-wing nationalist government," she said.
"He, who stuttered with (center-left politicians Ehud) Barak, (Tzipi) Livini, (Isaac) Herzog, (Avi) Gabbay and only yesterday his own people said he would go with (Opposition Leader Benny) Gantz – should not preach to the United Right. We are loyal to the right and its values."
"We will recommend Netanyahu," Shaked clarified, "but it does matter what kind of government he will form. In recent months alone he has turned to Gabbay, David Bitan and other MKs who said they see themselves forming a government with Gantz."
She added: "The prime minister has rightly said that we should make every effort to form a coalition of 61 or more right-wing representatives.
"All in all, most people in the country belong to the right and center-right blocs and there is no reason for us not to succeed. Whoever thinks it is important to regulate the settlements in West Bank and apply Israeli sovereignty there has only one option."