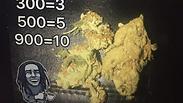 The Telegrass drug-dealing channel
Photo: Israel Police
A massive police crackdown earlier this year won't stop the online sale of marijuana in Israel, one of the operators of the new GetWeed channel on the instant messaging app Telegram told Ynet on Monday.
Police officers from the Lahav 433 serious crimes unit in March raided the homes of 42 suspects alleged to have a connection with the online drug-dealing network Telegrass, which operated as a channel on Telegram.
Potential buyers could contact individual sellers through a private chat faciliated by the channel and arrange their own drug purchases.
The head of the Telegrass network, Amos Dov Silver, was arrested at the same time in Ukraine and is currently under house arrest there.
One month later, the Cyber Unit at the State Prosecutor's Office indicted 27 people in the case.
The indictment accuses suspects of brokering the trafficking of dangerous drugs, trafficking dangerous drugs, drug offenses involving the corruption of minors, money laundering and more.
Despite the police crackdown, Telegrass is still going strong on Telegram and one of the alternative platforms - GetWeed - is also thriving. The name appears to be a riff on the popular cab-ordering app formerly known as GetTaxi.
A senior source from the platform told Ynet that GetWeed operates similarly to Telegrass, and will continue to run clandestinely until "there is full legalization of cannabis in Israel."
"We are almost the same as Telegrass in terms of idea and structure," he said. "We use very creative technologies in order to protect our staff and dealers' information."
"It is a kind of technology that is yet to be seen even on the world's biggest darknet websites," he said. "Let's say that if we went out with it (the technology) overtly and legally, we would have been raising tens of millions (of shekels)."
The source even provided details on the way in which the network operates.
"The dealers go through rigorous verification with their personal details and also have a convenient and easy-to-use review bot," he said.
"We currently have over 3,200 reviews on 140 verified dealers all across Israel and around 1,000 dealers are still waiting to be verified. Of course, this number grows daily."
Israel Police said in a statement that there was it would continue to target drug dealers in whatever format they operated.
"Israel Police sees the drug phenomenon as a dangerous and unacceptable social phenomenon, which could lead to criminal behavior, including severe cases of violence," the statement said.
"This is why the police vigorously enforces drug trafficking and distribution offenses through a variety of overt and covert actions in order to expose the perpetrators and bring them to justice.
"This is proactive enforcement focused on exposing drug offenses, whether committed on a street corner, at a border crossing or online."