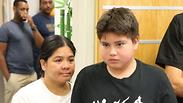 בית דין עררים תל אביב על גירוש של רוזמרי ו רוהאן פרז הפיליפינים פיליפינים
Photo: Moti Kimchi
Foreign worker and her Israeli-born teen son deported to the Philippines despite pleas
13-year-old Rohan Perez, who was born in Israel, was deported alongside his mother to her home country of the Philippines Monday night after the Appellate Court in Tel Aviv had approved their deportation. 'I told them I want to stay here, we did nothing wrong', said the teenager. Their deportation was stalled by a day after the mother lost control of herself and was taken off the plane on Sunday, but ultimately, the duo departed the next day.
The teenager, born and raised in Tel Aviv, was deported alongside his mother, 42-year-old Rosemarie, to her home country of the Philippines on Monday night, after the Appellate Court in Tel Aviv approved their deportation.

The mother entered Israel legally in 2000 as a foreign laborer and worked as a caregiver.

Perez's employer passed away seven years later, and Perez stayed in Israel illegally ever since, working in cleaning.

The mother says she didn't leave the country after the end of her employment because she wanted her son, who studies at Bialik-Rogozin school in Tel Aviv, to live in Israel and that she has no relatives in her country of origin.

The two were arrested last Tuesday in their apartment in south Tel Aviv by Population and Immigration Authority officers and were held at the Yahalom detention facility in Ben-Gurion airport until their deportation was approved.

In a phone call made from the detention facility, the teen told that after the court rejected the appeal, he and his mother had made on the decision to deport them, they were taken from the detention facility straight to the airport.

"They just tossed us around", said Rohan. "They took us to the airport with nothing".

"We asked to make a phone call, but they wouldn't let us. I told them that I wanted to stay here and that we have done nothing wrong."

The mother and her son were escorted by two Population and Immigration Authority officers, after they had to be taken off an earlier flight due to the mother losing control over herself.

The two departed on a late Monday flight to Bangkok, whence they will board another flight to the Philippines.

This is the first family with school-age children to be forcibly deported after a series of arrests in recent weeks, as part of a large-scale operation to deport around 100 foreign workers, most of them from the Philippines, and their children born and raised in Israel.

This is the third family with a school-age child to be arrested in this operation, which began three weeks ago.

The two other families are mother and her 12-year-old son, Ophresina and Michael James Cuenca, who are still waiting for a decision in their case and mother, Gerladine Esta and her two children, 10-year-old Khean and 5-year-old Kathryn, whose deportation is planned for the middle of September. Esta is planning to appeal to the District Court in Tel Aviv.

The detainees are forced to sign documents saying they need to leave the country with their children by the end of the school year in exchange for their freedom.

Population and Immigration Authority said in a statement that these are people who stay and work in Israel illegally and that the authority had decided to let deportation candidates' children to finish the current school year.

"These are foreign citizens who have been living illegally in Israel for a very long period without any regulated status", the statement said.

"In some cases, if not most of them, the children's fathers are waiting for them in their countries of origin".

"These said workers were arrested this year for unlawful presence in Israel, but a decision was made, out of consideration, to allow their children to finish their school year, as long as the mothers respect the decision and willfully leave the country with their children and go back home (without 'deportation')".

"We are sorry to hear about the incessant attempt to abuse this considerate decision."